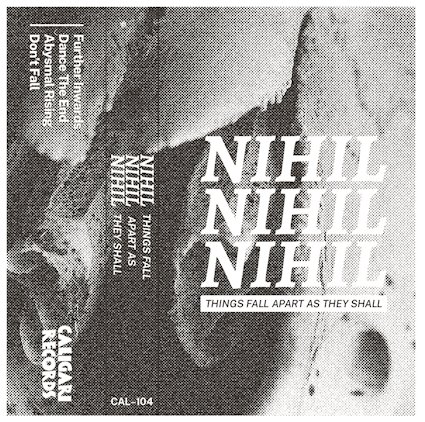 'Further Inwards' beckons, hanging chords and LORDS OF THE NEW CHURCH vibe all over the place. Bits of Laura-era FIELDS OF THE NEPHILIM scattered through, but with enough of a sense of modernity so as not to seem stuck in retro-land. Alternately crawling and lashing, hypnotic – and at over 6 minutes, there's time to be – we can tell even this soon that what we're hearing isn't some one-off toe-dipping in the pool to test the dark waters. The duo is diving in headlong.
MISSION UK's influence (think 'Deliverance') arrives in 'Dance The End', early SISTERS before Eldritch got so prissy. Ragged, careworn but carrying on, this is the sound of basement Berlin clubs, wet air and a howling in the face of disenchantment. The press release mentions "visceral", and this may be one of the few times a one-sheet got it right, because, as 'Abysmal Rising' shows us, what NIHIL NIHIL NIHIL is creating fucking breathes. It has a life force not to be denied. From gritty post-punk to a few irony-free metal gallops and lead patterns at around the midpoint, the darkness and light summoned by the duo are blinding, are true in equal measure.
I'll be honest, I'd largely passed on THE CHAMELEONS prior to the version of 'Don't Fall' here, so I can't offer an opinion on how faithful it is to the original. What I can say, though, is that I'm now tempted to go back and delve deeper. And isn't that what a good cover song's supposed to do, after all?
A solid first showing with Things Fall Apart As They Shall, and I'm already salivating for more.
Review By: Lord Randall
NIHIL NIHIL NIHIL
Things Fall Apart As They Shall [EP]
Caligari Records
3 / 6