Our planet is in peril. Does it have its own consciousness, its own voice? Perhaps it speaks to us through music. If Canada's TOMB MOLD are the conduit for this planetary mind, then the voice of the world is more of a scream of rage and horror. That is what TOMB MOLD captures on their new album Planetary Clairvoyance.
The band has been one of the most talked about in death metal circles for the last few years. Few bands can capture both sickness and technicality like TOMB MOLD can. They also have a cosmic/science fiction edge which gives their music some unique depth.
Guitarist Derrick Vella is the mind of TOMB MOLD and is instrumental in molding their exhalations of cosmic horror. After completing a successful tour with SUPERSTITION, he found the time to speak to us about the steady growth of TOMB MOLD…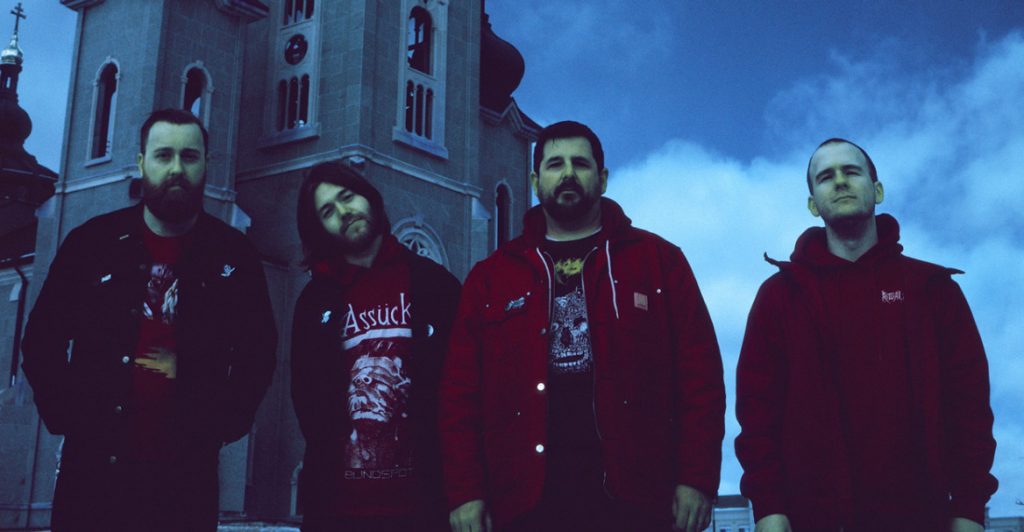 INFECTING THE UNIVERSE
Interview with Derrick Vella of TOMB MOLD
By: Dr. Abner Mality
REBEL EXTRAVAGANZA: Greetings to TOMB MOLD! Planetary Clairvoyance is now out on the racks. What were your goals for this release in comparison to your previous efforts?
DERRICK VELLA: No real goals beyond just the continual honing and refining of what this band is about. I had a burst of creativity once we were winding down from Manor Of Infinite Forms so I figured we should just ride the wave and keep going hard at it. Very pleased with the results!
RX: Your style is unique in that it combines really sick sounding death metal with a more technical and melodic edge…something not that easy to do. Was this always your goal or did this style come about naturally, without a lot of planning?
DV: I think this most recent record along with The Moulting demo that pre-dates the 4 piece lineup is me writing at most natural. Not that I'm saying the Manor… LP was forced in any way possible, I just feel like Planetary Clairvoyance is a record where I could finally blend those points you mentioned as I wanted them to be. I probably wouldn't push the technicality much further unless it yielded nightmarish results. I like the oppressive feeling of our songs.
RX: How do you compose your songs? Is it a collaboration between all members or do one or two guys take the lead?
DV: The bulk of the writing takes place on my own. Once we start practicing new songs, the layout and format and riffs are all there, I just lean on Max to play whatever he wants to play on drums to make the song real. From there, I give Payson and Steve and outline on what they're playing with room to tweak things. Once all the songs are practiced out, Payson and I start to really focus on our leads.
RX: What were the bands that led you to the extreme? Who made you want to push that envelope?
DV: In general or for this record? Lets cover both. Hearing bands like BAD BRAINS and then TERRORIZER laid the foundation for wanting to consume extreme music as a teenager. At this stage in the band, bands like DISINCARNATE and DEMILICH help shape the vibe I want to have. both of those bands knew how to blend technicality and brutality with some of the most memorable melodies and riffs. Those songs have been stuck in my head for years.
RX: TOMB MOLD's lyrics seem to lean towards the cosmic, especially on the new album. Are they inspired by scientific phenomenon or are they more science fiction in orientation?
DV: For sure they are, but also they focus a lot on things ending, whether its the end of one life before the next, planets, or just all existence as we know it.
RX: Are the songs linked lyrically on Planetary Clairvoyance? If so, is it a strong link, or is it more loose?
DV: Not so much. They definitely were on Manor… but these songs tell singular tales. Overarching themes for sure, but not a concept album.
RX: The title Planetary Clairvoyance seems to suggest that Earth itself has a consciousness. Is that what the song's about?
DV: For sure. Earth will be sure to destroy all of us and it will continue to live on.
RX: With 'Phosphorene Ultimate', you create a song that is more of an ambient soundscape. Do you see yourself pursuing that direction further?
DV: I'd say so. I had a lot of fun making that song with Max. I mean, he's the one responsible for it being so good. All I did was play two riffs on guitar.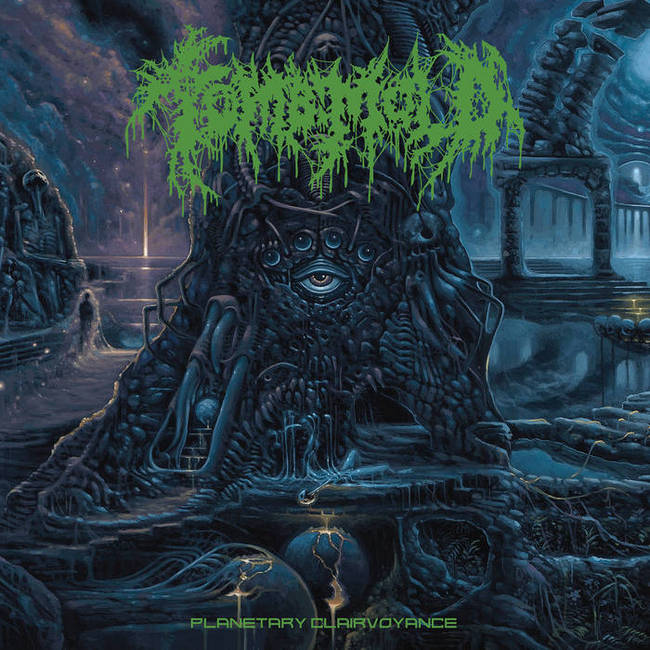 RX: What are some of the more unexpected influences on TOMB MOLD? Ones that don't necessarily come from other metal bands?
DV: THE BLUE NILE.
RX: The metal scene in Canada seems red hot, especially considering the size of the population. What is it that makes things so energetic there?
DV: Depends on location, I suppose. Some might thrive due to isolation. Toronto seems to be thriving a bit more in the extreme music world, if you look beyond just metal and examine the punk scene as well. Toronto is a pretty rich city in its creativity. There is lots to be enjoyed if you open your mind up a bit.
RX: Are any of you guys in other bands or projects and if so, what are they?
DV: Max has an industrial/ambient project called DEATH KNEEL. Total Black just released his first vinyl full length called Adaptive Emotional Use. It is absolutely gut wrenching and terrific. I heard 'Would Anybody Die For Me?', and I wept.
RX: You are on tour with SUPERSTITION right now. How is that going and is this the biggest tour for you so far?
DV: The tour overall was awesome. SUPERSTITION were great pals to hit the road with, and they're amazing every night. The turnouts at each gig exceeded my expectations. I was very pleased.
RX: Are there any other Canadian death metal bands that we should be on the lookout for? I just encountered a really good one from Calgary called PATHETIC.
DV: REGURGITATED GUTS from Winnipeg are awesome. GRAVE INFESTATION from Vancouver are sick as well.
RX: 'Heat Death' seems to be the most epic song and concept from TOMB MOLD so far. What's the concept behind this one?
DV: I knew it would close out the record, but we didn't decide to make it primarily instrumental until closer to recording. Max's vocals come in at the right time. I rip a long dumb solo on it. It was a lot of fun to write. Its a love letter to CYNIC.
RX: Any further touring plans beyond the trek with SUPERSTITION?
DV: Well we just got back from touring Europe with OF FEATHER AND BONE and RITUAL NECROMANCY. What an awesome tour. Cities like Copenhagen, London, Warsaw, Berlin, Brussels and Bristol were all terrific.
RX: Do you have any ideas of what the next TOMB MOLD offering will be? You guys seem to be pretty busy.
DV: Not for a while, so please don't hold your breath for a 4th LP in 2020
RX: Any last words for the faithful?
DV: Thank you for supporting us. Never did we think we'd be in a position like we are in and it's thanks to you.