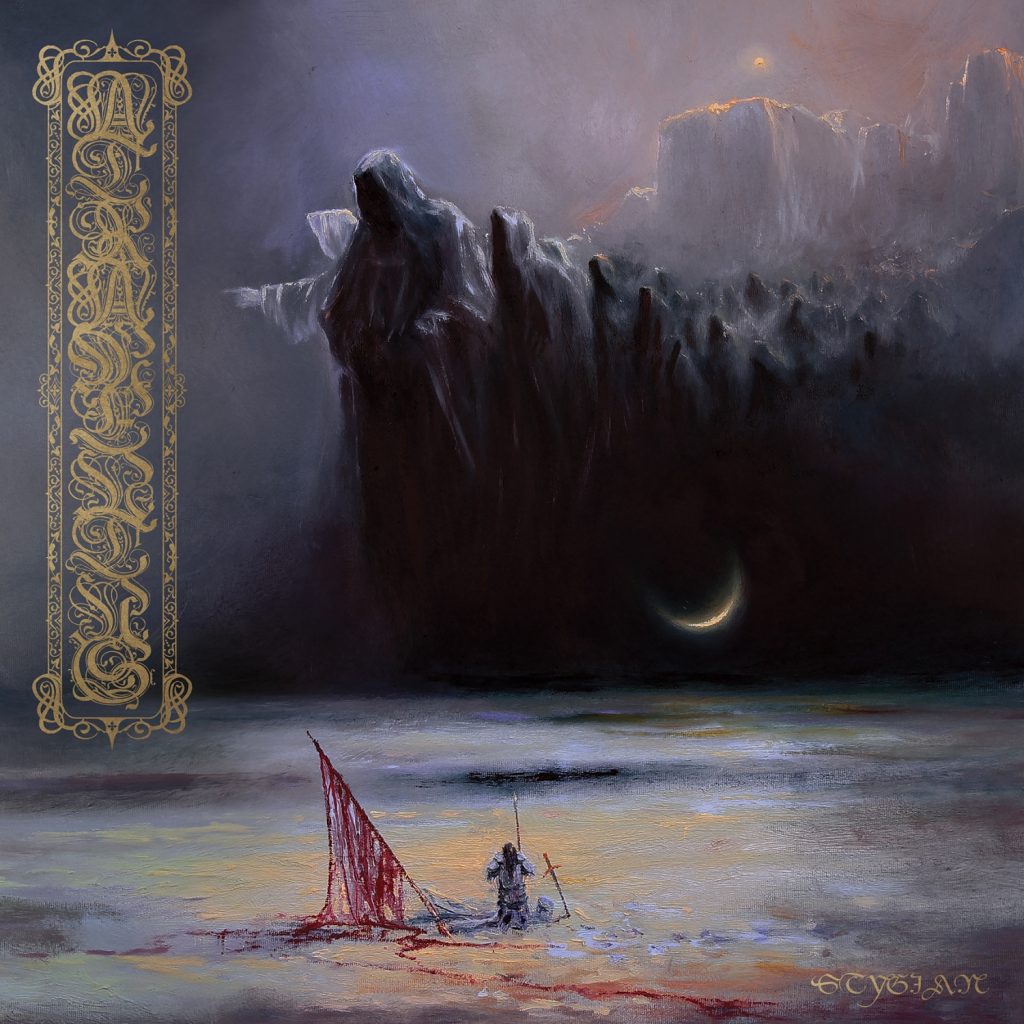 Though members of CHTHE'ILIST, FUNEBRARUM, and other acts comprise Longueuil, QC's ATRAMENTUS, the quintet is very much its own beast from the start. Opener 'Stygian I – From Tumultuous Heavens… (Descended Forth The Ceaseless Darkness)' reveals a band certainly in no rush to get anywhere with great speed, yet more layered than FUNEBRARUM, less ribaldly feral than CHTHE'ILIST. We move through vast tundra wastes at times, lean against blizzards that howl through the bones others, but always, always alone. Solitary.
While certainly beholden to its genre forefathers, who need not be named except as reference points for all that came after, ATRAMENTUS bears a distinctly Northern and naturistic ethos throughout. Where THERGOTHON was occult, conjuring abysmal unworlds of theirs and others' formation, where SKEPTICISM is often liturgical to the point of near-orthodoxy, Stygian is at the mercy of the elements, ensuring that we feel every wearied step, every breathtaking sheet of windblown ice to the face in the journey of its lone protagonist.
While this alone is enough to birth a sense of at least mild interest in the devotee of funeral doom, such intrigue falls flat if the band does not deliver. In this case, ATRAMENTUS do, and – while the fulcrum of the album drags a bit initially (the brief 'Stygian II') – I feel that in time, and with repeated listens, it will become a needed respite from the otherwise all-engulfing bleakness of the two sonic bookends.
Ending with the 23+ minute 'Stygian III – Perennial Voyage (Across The Perpetual Planes Of Crying Frost & Steel-Eroding Blizzards)', shimmering 'n' shrieking solos blend and battle with forlorn intonations, sloughing, resigned rhythms to draw this journey to a close. For a journey it is, in many ways, and one that is worth the taking.
Review By: Lord Randall
ATRAMENTUS
Stygian
20 Buck Spin (US) / Century Media (Rest Of World)
4.5 / 6