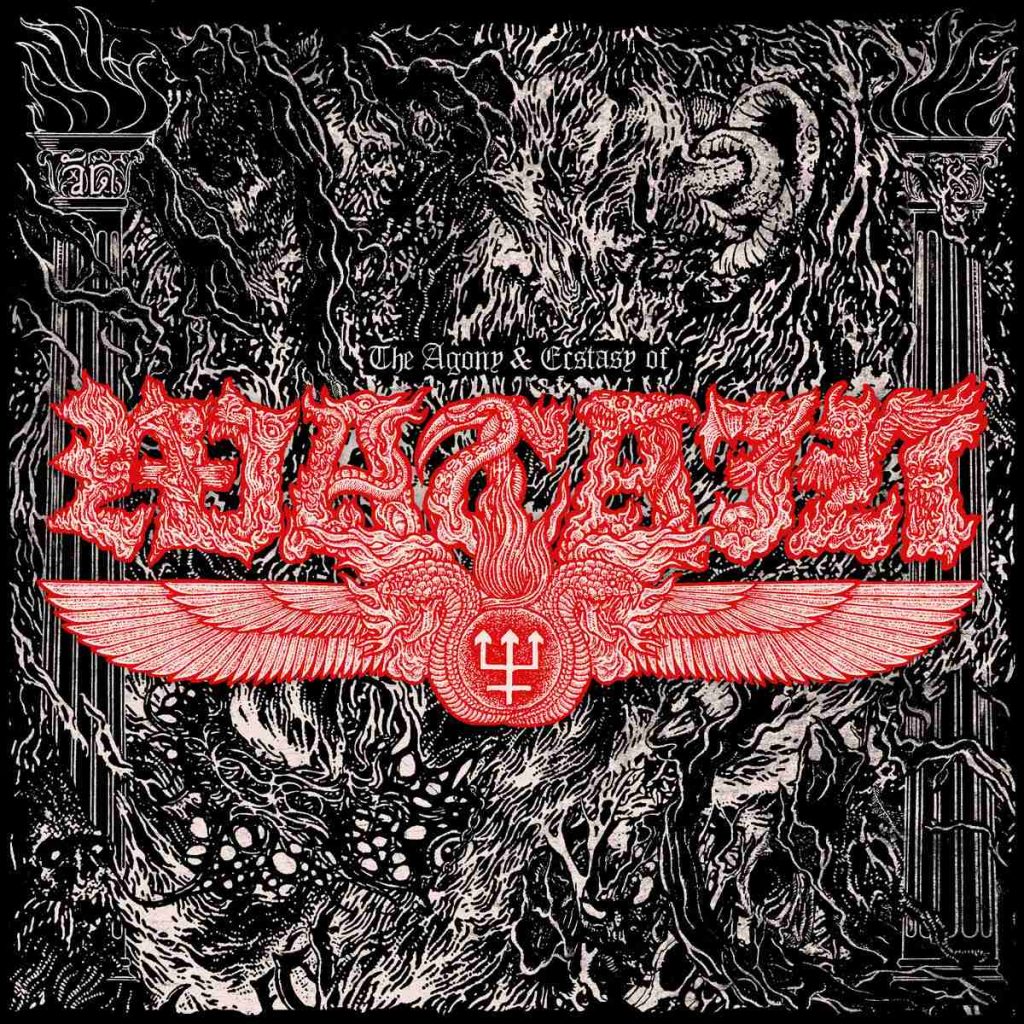 It's funny to me how I still think of WATAIN as a "new" black metal band. With a recorded history longer than a good many of its fans have been alive, countless tours and now seven full-lengths to their credit, it's not as if the members haven't put in the work. That the original blackened trinity remains intact well over a decade after formation speaks to the dedication and perseverance if nothing else. But here's the rub. For myself, WATAIN has just been, largely, there. Lawless Darkness was alright enough, The Wild Hunt tiresome, so I shrugged and stepped away. And now here we are, and the already pretentiously-titled The Agony & Ecstasy Of Watain be upon us…
Oh, the bloody caterwauling! 'Ecstasies In Night Infinite' is a master class in Black Metal ™ for the masses. Pig-squealing lead jabs, drums that sound triggered to the band's beloved Hell and back, frontman/focal point E. declaring his perpetual hard-on for "fire", "death" and such…but it sounds so plotted, so planned that it doesn't conjure any sort of emotion and thus fails. 'The Howling' had me until the snappy little pop-punk bit after the second verse. As a matter of fact, take that out and you have WATAIN at its best, eschewing pomp and pageantry for visceral attack.
After a scattered, directionless 'Black Cunt', we get the tired, played out Satanic flirtation of 'Leper's Grace', again snarling at the supposed low-hanging fruit of Christendom. Spiritual differences aside, WATAIN won a Swedish Grammis award with Lawless Darkness, so how persecuted by/pissed can its members really be by "vita Kristus" and His followers? Conversely, 'Before The Cataclysm' is the best I've heard from the band in nearly a decade. Engaging, dense but expansive, a half-album's worth of this sort and the positively captivating 'We Remain' – which features vocal coloring by the incomparable Farida Lemouchi – would've resulted in an entirely different review.
Alas, at the end what we're left with at the end of The Agony & Ecstasy Of Watain is just under 1/3rd of an album I'd care to revisit. And that's far from enough for me these days.
Review By: Lord Randall
WATAIN
The Agony & Ecstasy Of Watain
Nuclear Blast
2 / 6