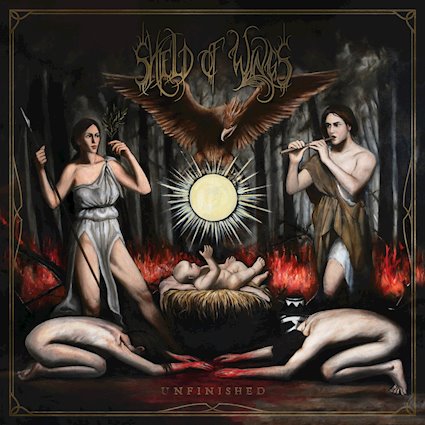 Alright, first off, it's not the late '90s anymore, or had you not noticed? SHIELD OF WINGS apparently hasn't.
The Illinois fivesome features not one but two female vocalists, so credit for that, as 'Crushing Hail' does give a bit of difference from the norm, Mordian and Daye (also on keys) blending to create an interesting melody. Musically, the band is exactly what I expected, and that's unfortunate, especially when I'd actually been taken back to those early NIGHTWISH / LACUNA COIL / EPICA days for a moment…until the absolute bottom drops out right around the 3 ½ minute mark. I'm sure guitarist/songwriter James Gregor was trying to create some sense of dynamics, some sort of buildup, but instead the section comes across as very cut/paste.
'Native Colossus' bores from the start, and it's clear Gregor really, really, no really is fighting for something cinematic – something EPIC(A – yeah, I went there) – but what we're left with ideas that never fully form into anything aside from a place to store riffs that might someday fit into an actual song. As a title 'Frozen Harbor' seemed intriguing, but it's such a flea-market mimicry of Wishmaster era NIGHTWISH that I feel as if I've bought this disc out of the back of some trunk downtown. And it. Just. Drags. On. Five minutes? Nah, had to be more. Had to!
'Cedar' and 'Wetland' pass as a slurry, and – while I'm not questioning SHIELD OF WINGS' dedication or passion – by the time we get to 'Sunfire Shower', every note is anguish, every rhythm torture, because you can hear that they very much want this to work. It just doesn't.
15, 20 years ago, this would've been a somewhat different review. While I'd love to hear a band doing something new with the style, that band is not SHIELD OF WINGS. Unfinished? Well, I certainly am.
Review By: Lord Randall
SHIELD OF WINGS
Unfinished
Elderpath Records
1 / 6