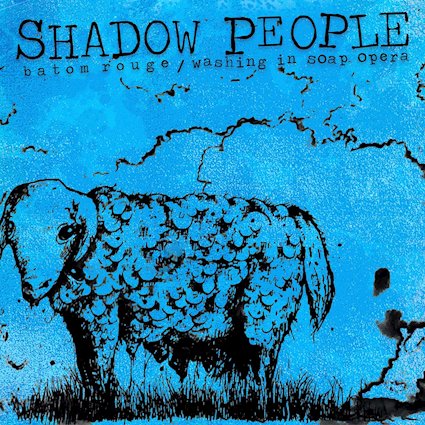 There are few terms that spark intrigue in my life, but you throw a mixture such as "sludge punk" my way, and my ears at least have to hear what the fuss is about. The "fuss", in this case, is Louisiana's SHADOW PEOPLE.
Collecting its two EPS released last year, Batom Rouge / Washing In Soap Opera, 'Six Weeks' kicks off the proceedings, all fuzz, and drunken stumbling, the first minute coming off like what happens live when the band isn't sure what song they were going to play next, and I love that feeling of spontaneity. Once it gets moving, though, SHADOW PEOPLE alternate between crawl and caterwaul, conjuring a bit of SOFY MAJOR, before the drill-press-on-crack rhythms of 'State And Perish' hurl us into noise/punk territory, the bridge heavy as anything to come from the more straight up sludge for which Louisiana is more known.
I always respect a band where all bets are truly off, which seems the case here. 'Death To Mainstream Cinema' sounds like the wedding of Bleach-era NIRVANA and, well, 'Gallons Of Rubbing Alcohol Flow Through The Strip' NIRVANA, which in and of itself is admirable, in that they pull it off. Beginning with a speakeasy sing-along, 'Every Man A Sot' has elements of the spaghetti western in its guitar tone, the "This is the anthem for nothin' to do" lyric a perfect representation of what's on offer here, ideal music to lay back on the couch and swim around in using a bottle of Old Crow as a life raft.
'I Always Wanted To Be A Motivational Speaker' carries a weight worthy of RABIES CASTE or the much-missed PAW, and, really, if you've made it this far, just buy the damn thing already. Support truly independent music. It's not just the labels, it's the way it's played.
Review By: Lord Randall
SHADOW PEOPLE
Batom Rouge / Washing In Soap Opera
Forbidden Place Records
4 / 6