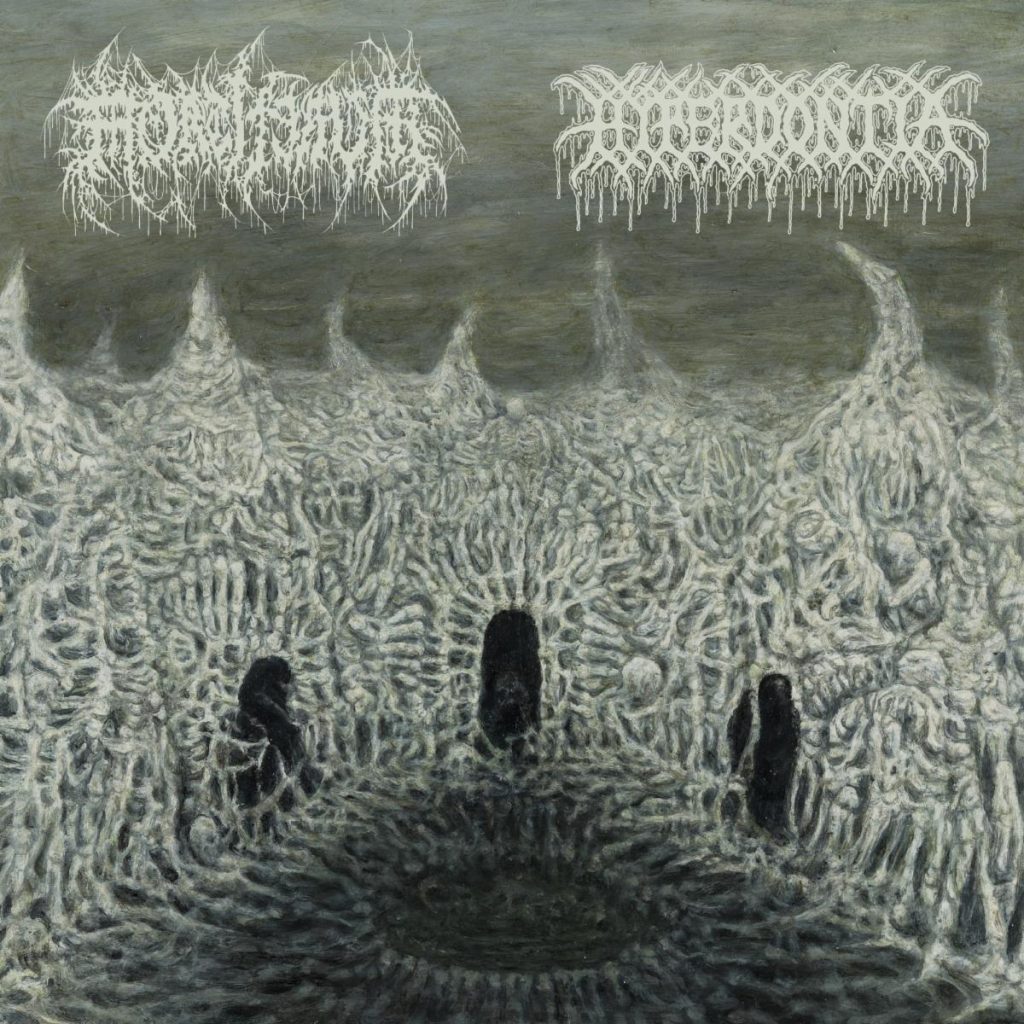 I use the phrase "short, sharp shock" a fair amount. I try not to, but I'll admit to it popping up more than I'd like. Besides, it doesn't really fit this release. Two bands, two songs. Get in, get rabid, get out. Back in the day, those Maxell or TDK 60-90 minute cassettes we'd get in the mail from writing addresses in the back of metal magazines to trade bands and hear music were treasure troves. Yeah, of course there were some clunkers, but more often than not, you'd come away with at least a handful of new (to you) bands to check out further.
I'd passed up listening to MORTIFERUM's full-length debut last year, same with HYPERDONTIA's 2018 Nexus Of Teeth, despite both being on labels I frequently support and consistently respect. What this little 7" here does, is confirm that I missed out on both counts. 'Abhorrent Genesis' leads the lumbering, a sub-level, THERGOTHONic bowel-dropper of an introduction morphs into a constricting python of a riff winding about your breathing apparatus as oil-drum rhythms call forth demise. I'm not sure what part of Stockholm lies geographically close to Olympia, Washington, but, in this tune at least, MORTIFERUM dwells on the border.
'Punctured Soul' is clearly of another sort, a more clean, decisive (incisive?) tone to the guitars, more speed, more frantic footwork on the drums, more technical in delivery – think NYDM. HYPERDONTIA isn't playing around either, and the solo work at almost exactly the halfway mark is trance-inducing, albeit shorter than I'd have liked it to be. Two coins in your eyes to pay the ferryman in your crossing of the Styx, then, is this. And now, it seems, I have some backtracking to do.
So, a "short, sharp shock", no. A brief, brutal bludgeoning, and a welcome one, at that.
Review By: Lord Randall
MORTIFERUM / HYPERDONTIA
Split Seven-Inch
Carbonized Records (US) / Me Saco Un Ojo (EU)
4 / 6