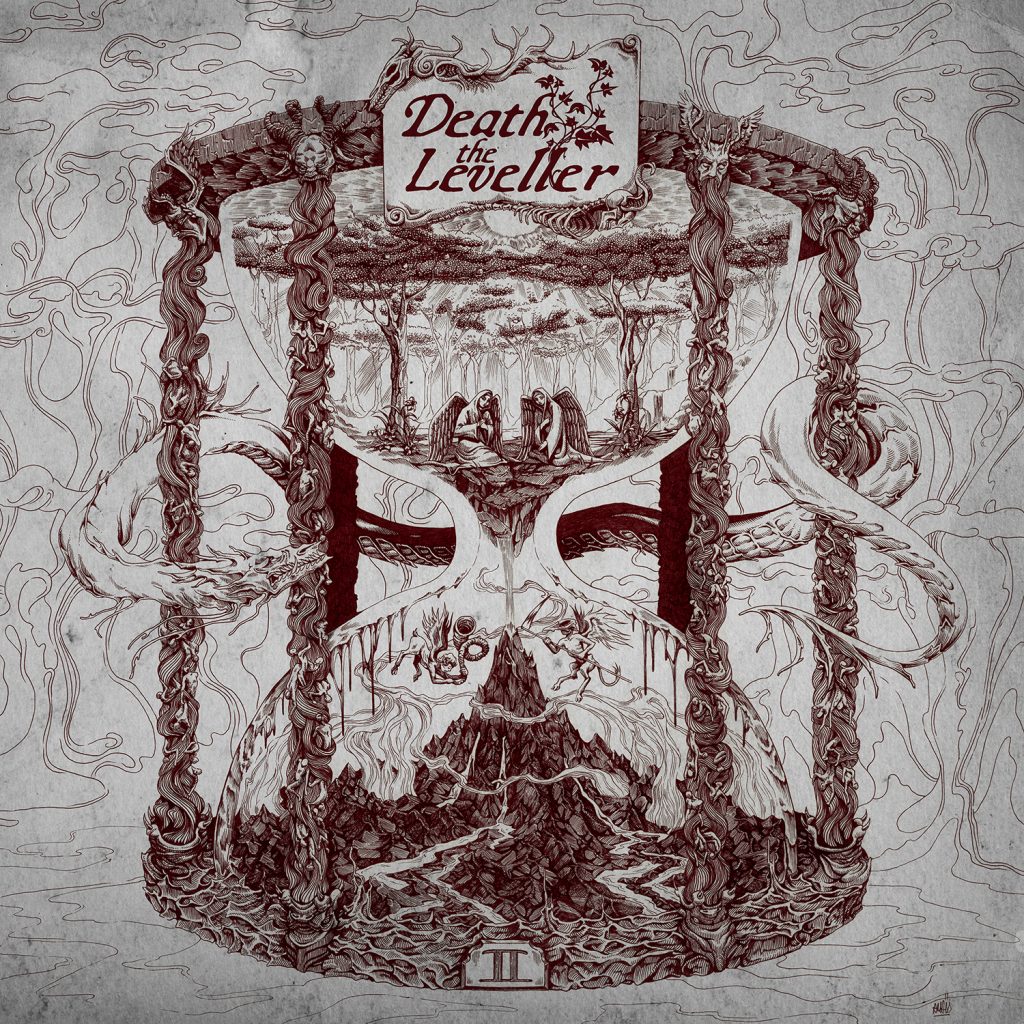 When a band's first long-player is titled II, two things become starkly clear. One, something has come before – in this case, 2017's creatively-titled I. And two, that what's found on DEATH THE LEVELLER's Cruz Del Sur debut is to be seen as a continuation. And thus, so armed, to Bandcamp I did go, armed with 4 EUR ($4.34 for USsians), and was summarily impressed by the emotion found within I's four expansive tracks, 'Gone Forever' especially showing a band with promise and clearly with its eyes to the future, albeit bleak.
Now comes II, and the wailing guitar stunt-doubling as a horn, Denis Dowling's dramatic, rich baritone (shades of Cornell, JB of GRAND MAGUS, anyone?), and fullness of the Murphy/Cahill rhythm section showing that the foursome still moves forward, confident in both what it is, and what it isn't. There's an air of self-assuredness displayed in leading off an album with a slow track, something even the mighty CANDLEMASS has been averse to doing throughout much of its career, and 'The Hunt Eternal' succeeds by both holding interest and cultivating a desire to see where the album takes us.
'The Golden Bough' follows, the sparseness of DEATH THE LEVELLER removing all except the listener's focus on the crushing weight we struggle beneath, futilely. Dowling thrives here, passion pouring from every…well…pore, the shadows thrown beneath by lone guitarist Gary Clince positively Iommi-an in stature, but think Heaven And Hell/Mob Rules more so than the Ozzy-era. You know, when he wasn't saddled playing "down" to a vocalist's ability. Those albums.
Recalling FALLOCH and LANDSKAP in its melancholy, 'So They May Face The Rising Sun' is perfect listening for a Spring afternoon, a humbling reminder that Autumn is coming in these, our quickly-dying seasons upon the Earth to which we lay false claim.
'The Crossing' draws the curtains together on II, and if you've made it this far into the review, I'll leave it to be described best by your ears instead of mine. With its second, DEATH THE LEVELLER has accomplished what many bands much further down their respective roads have yet to do, in delivering a fully-formed work of art that builds on what has come before, but looks ahead. 'David' has been completed, The Sistine Chapel awaits.
Review By: Lord Randall
DEATH THE LEVELLER
II
Cruz Del Sur
5 / 6