Black metal death engine, SAMMATH, has been crushing eardrums under its tank treads for over a quarter century, yet sixth full-length, Across The Rhine Is Only Death shows no second of fatigue, no moment of weariness or unreliability from founder J. Kruitwagen & co.
Normally, we keep current as possible with interviews, but our recent chat was too good not to include here. Lord Randall armors up…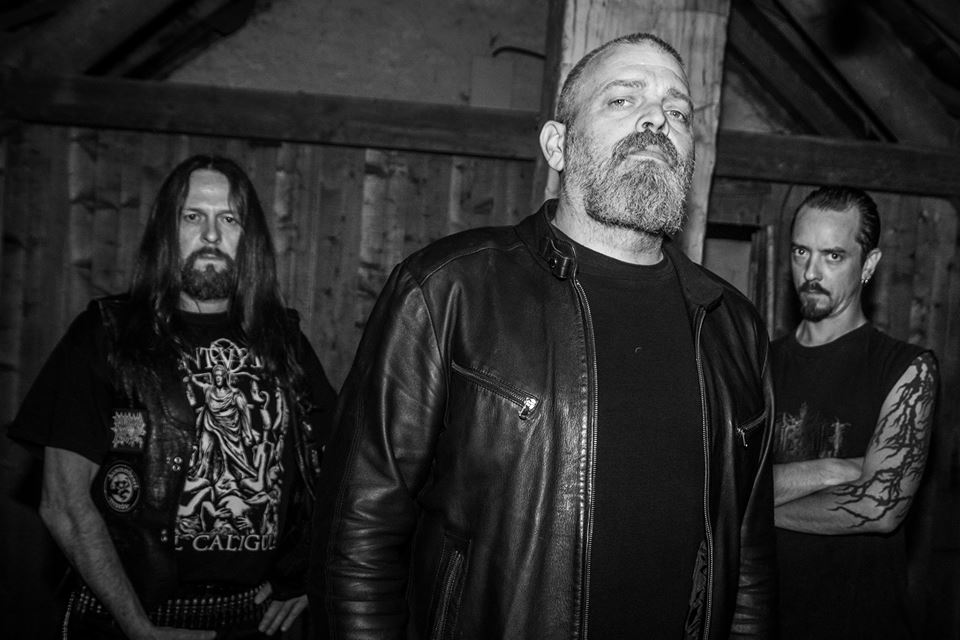 THE STRENGTH OF KRUPP STAHL
Interview with J. Kruitwagen of SAMMATH
Interview By: Lord Randall
Rebel Extravaganza: After putting out your first 4 albums on a fairly regular schedule, it's been close to a 5-year wait between the last two. Is this more a case of "quality over quantity", or just when the material happened to be ready to deliver?
J. Kruitwagen: Simply quality and time.
RX: Now, 6 albums into SAMMATH's career, do you find you still need to get into a certain headspace or mindset to write/record/play live?
JK: No, it all comes rather naturally, I play guitar and listen to metal every day, I simply can't live without metal. That doesn't mean it's any good though, 90 percent of riffs I come up with are utter shit or not good enough. Having a space at home to be able to play full blast 24/7 makes it all very easy. It's a thirty-meter walk to my own rehearsal house. Playing live is only just starting really, since I switched to guitar and vocals and Wim joined as a new drummer, we have been making lots of progress live. Live we always seem to sound like it's going to cave it at any moment. No certain moods, I'm always in the mood.
RX: What led to the decision to release Live Arrogance, and do you feel it's an accurate representation of SAMMATH in a live setting?
JK: We sound totally different these days to how we sounded back in 2008 when we played live last with a different line up.I wanted people to hear how we sound now. It's a tape release on a label from the Netherlands called Zwaertgevegt, Alex, the label boss is a underground maniac and has been to many of our shows, from Serbia, Germany to Romania, so whenever we record something outside a regular release on Hammerheart, I want him to release it. it sounds totally filthy this tape, I send it off to Peter Neuber (Vintage Mastering) for mastering (he always does the SAMMATH albums) and he wrote me back saying his ears almost fell of and what the hell was this shit, but in the end he did make it sound pretty damn good, compared to what I sent him.
RX: On to the album. The final days of WWII from the German perspective had to be one of the most bleak, forlorn times faced by a country as a whole in modern history. Even if you were pro-/anti- the regime that was quickly losing power, the fact remained you've watched your homeland – and that, likely, of your fathers – become a hole in the earth.
JK: Search for "Wesel 1945" online. [It was] total darkness, utter destruction, all Hollywood movies are about D-Day – and even the soldiers say this phase, especially the Rhineland campaign, Veritable and Blockbuster – was worse than D-Day. I'm Dutch born, near the border where these grim battles took place in 1945, I grew up in Australia, moved back to this area on the German side after my history studies. I came up with the idea to do a limited-edition wood box of 100 for the new album, which included a used shell from the battlefields I dug up myself.
The sheer courage and determination of these German soldiers was insane. Also, the Allies, who knew the war would be over soon had to face many demons, and had already fought for eight months daily in Europe before reaching this part of Germany. I try desperately to stay out of the entire political side here. I just create black metal using my home turf as lyrical inspiration. In my own backyard I found ammunition. My grandfather's brother was killed in The Netherlands at the Grebbeberg, defending his country from the Germans.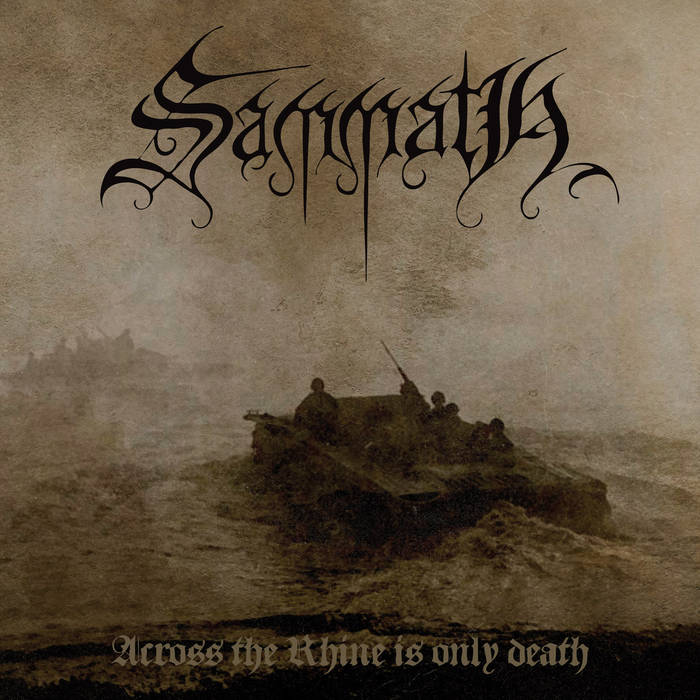 RX: Being as you're the primary force in the band, is it a case of "Well, as there are three, one must have the final say?" If it's worked well thus far, why change, is how I see it.
JK: I write all the music and lyrics and that's never going to change, it wouldn't be SAMMATH if we changed that. This time around, Wim also did some arrangements, and not only Ruud, who has always been doing arrangements. Wim also thought up a lot of the drum parts himself, Wim is old school, Ruud is old school, so the tracks naturally never sound too modern, and this way of working is great. I don't think we had even one discussion about riffs or track arrangements, sometimes as a band you get lucky, and everything just works. That's where SAMMATH is now.
RX: Is it important for you to be able to pull off nearly 7-minute songs as well as those just over 2 minutes? Much as battles have lulls and times of fierce fighting, so should the song, or the album, in this case. One makes the other much more strong, more solid, wouldn't you agree?
JK: I never really look at time when I record a track. Sometimes they end up very short like 'Blood Ridden Fields' that's just over 2 minutes. That track is flat out fast from beginning to end, it has numerous fast parts that differ slightly, it almost killed Wim, as we were set on record everything in 1 take. I agree though that on an album like this you need some longer tracks with some slower parts otherwise the album will sound like 1 continuous blast beat and lose impact. I do like albums though that just blast all the time, like SETHERIAL's Hell Eternal.
RX: Do you see Across The Rhine Is Only Death as the prime display of which SAMMATH is capable at this point in its career? Now, 4-5 months past its release, and with time to look back as well as forward, is there anything you'd change? Lessons learned to take to album #7, if there is to be one?
JK: The limited-edition wood box with shell casing sold out within a week after the pre order began and in eight days after release the first press of the Digi-CD was sold out. I also had to reprint the shirts after a month. It was pretty overwhelming to be honest.
RX: What has Wim [van der Valk, drums] brought to the band in terms of power and ability?
Many bands, especially black/war metal, seem to operate with the "Oh, it's just the drums" mindset, but a drummer can be the difference between a good band and a great band, shit or shine.
JK: Wim had bought so much to the band I don't know where to start. He was the missing link. For us the drums are a huge part of our sound. The tracks are almost all fast or at least up-tempo, so we need a drummer who can play fast yet lay down different accents and always keep the momentum going even if it all slows down. I also wanted someone who had the old-school mentality. Also, with Wim joining and at the same time me switching to guitar and vocals it all just bloody worked out perfectly. After about 5 rehearsals together it all just fell into place. He is one of the better drummers in The Netherlands in this style, maybe some are more technical, but he hits hard and fast as hell and he is very, very dedicated, great bloke to have a beer with as well.
RX: If you were to put together a tour of SAMMATH and 2 other bands from any era, what would it be?
JK: AUTOPSY during the Severed Survival release shows in '89, and SADISTIK EXEKUTION in 1997 after they released K.A.O.S.

SAMMATH Online:
Official Site
Bandcamp
Facebook