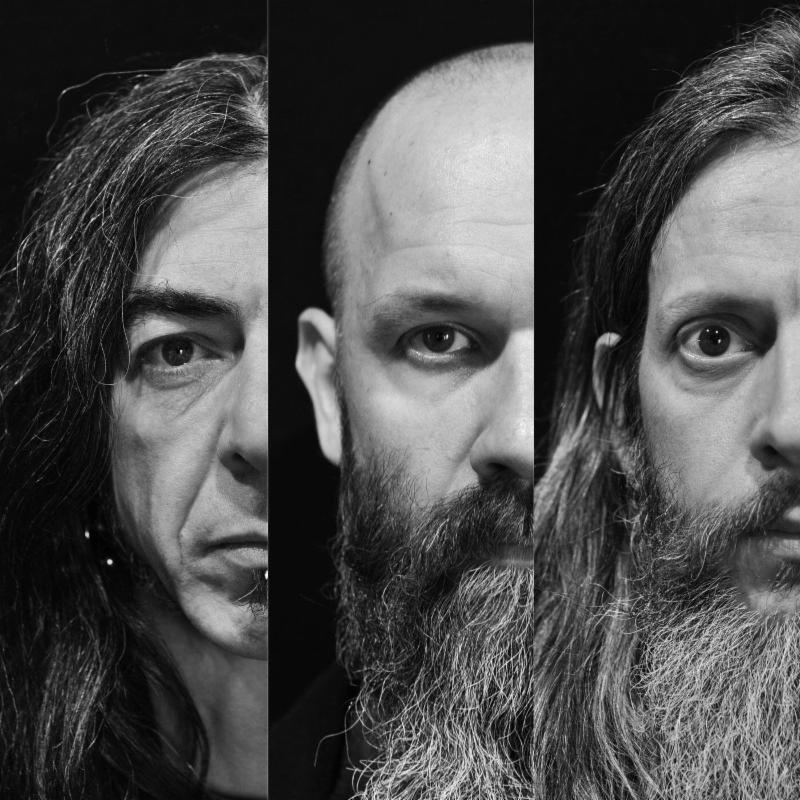 Italy's mind-altering trio UFOMAMMUT marks their 20th Anniversary as a band this year. Having recently returned from their latest European and North American tours, the band has a new surprise for their amazing and loyal fans. On September 9th, Supernatural Cat will release a special anniversary box set, XX.
To be released on both CD and LP, the XX box set will feature nine UFOMAMMUT albums, all individually housed in sleeves with exclusive cover artworks, created specifically for this release. The box sets will include all eight studio albums; Godlike Snake, Snailking, Lucifer Song, Idolum, Eve, Oro, Ecate, and 8. Additionally, the box will include a new release, titled XX. This new recording features six revisited tracks – 'Satan', 'Plouton', 'Lacrimosa', 'Infearnatural', 'Mars' and 'Destroyer'- which were re-recorded during the band's recent European tour. These special box sets will also include a 64-page book with original covers, photos, and lyrics to all songs with an additional poster, backpatch, and sticker.
The XX box sets are available for preorder at the new UFOMAMMUT official webstore along with other exclusive new merchandise RIGHT HERE
UFOMAMMUT has also just announced further European touring for later in the year, surrounded by one-off festival performances this summer, two gigs in Russia this September, with more tour dates to be announced over the months ahead, as the band celebrates their 20th Anniversary with their fans around the planet.
UFOMAMMUT 2019 Live Dates:
9/11/2019 Aglomerat – Moscow, RU
9/12/2019 MOD – St. Petersburg, RU
9/26/2019 Le Fil – Saint Etienne, FR
9/27/2019 Petit Bain – Paris, FR
9/28/2019 The Garage – London, UK
9/29/2019 Magasin 4 – Brussels, BE
9/30/2019 Melkweg – Amsterdam, NL
10/02/2019 Vega – Copenhagen, DK
10/03/2019 Sticky Fingers – Göteborg, SE
10/04/2019 Høstsabbat – Oslo, NO
10/05/2019 – TBA
10/06/2019 Debaser – Stockholm, SE
10/08/2019 On The Rocks – Helsinki, FI
10/09/2019 Von Krahl – Tallinn, ES
10/10/2019 Melna Piektdiena – Riga, LV
10/11/2019 Narauti – Vilnius, LT
10/12/2019 Hydrozagadka – Warsaw, PL
10/13/2019 Zet Pe Te – Krakow, PL
10/15/2019 Rockhouse – Salzburg, AT
10/16/2019 Mochvara – Zagreb, HR
Watch for more news on UFOMAMMUT's ongoing 20th Anniversary actions to be issued in the weeks ahead.
UFOMAMMUT Online:
Official Site
Facebook
Twitter
Bandcamp
Instagram