Hear LARRY LYNN's 'Diamond Lady' (YouTube) (Bandcamp) (Metal Injection)

"So rare that diehard fuzz junkies say you'd have a better chance of winning the lottery than finding a physical 45 rpm single by one of the bands featured on their latest installment." — Dangerous Minds
"Will do for hard rock, proto-metal and heavy psych what Nuggets did for garage rock, and bring it to a wider audience of collectors and music fans." — The Guardian
"Mining the surprising rich reserves of heavy rock and proto-metal from the '60s and '70s, these collections have been crucial to understanding the history of a subgenre of rock that had far deeper roots than most fans realize." — Paste Magazine
The forthcoming eleventh edition of the popular compilation series featuring long-lost vintage 60s-70s proto-metal and stoner rock singles, Brown Acid: The Eleventh Trip will be available October 31st, 2020.
The Brown Acid series is curated by L.A. label RidingEasy Records and retailer/label Permanent Records. Read interviews with the series curators via Paste Magazine HERE and LA Weekly HERE
About The Eleventh Trip:
This Trip opens with ADAM WIND's 'Something Else'. featuring groovy crooning and a very acid-damaged guitar riff that meanders across key signatures like it ain't no thing. This 1969 single by the Tacoma, WA band predates grunge by 20 years, but the band's heavy psych and murky tones are just the stuff Northwest heroes Mudhoney sought so fervently at their peak. Lead singer Leroy Bell's excessive vibrato gives the tune its charm, but the heavy breakdown in the middle is the real payoff.
Boston bruisers GRUMP return to the series with a previously unreleased dose of raw soul layered in greasy horns, plucky harmonized guitar leads and chirping organs on 'I'll Give You Love'. The track packs twice the punch of their cover of Elvis Presley's classic 'Heartbreak Hotel' heard back on The Eighth Trip, itself a fan favorite.
Stevens Point, WI is the actual origin of BAGSHOT ROW, a little-known band taking its name from a street in The Hobbit. However, they sound much less fantasy-obsessed than their name suggests and more akin to Sugarloaf of 'Green Eyed Lady' fame. Their swaggering 'Turtle Wax Blues' of 1973 will put some extra hair on your feet and send you searching for this lone 45 single like a ring that possesses magical powers to control all of Middle Earth (or at least Middle America.)
LARRY LYNN's 'Diamond Lady' is the B-side to his 1970 single 'Back On The Street Again'. Larry Leonard Ostricki adopted his stage name while performing with The Bonnevilles in the mid-1950s in Milwaukee, WI, and later with The Skunks. Larry Lynn's eponymous band explored bluesy psychedelic rock from 1969 to 1978, only to reunite in 2009 and they still perform to this date.
RENAISSANCE FAIR take things in a very weird, very fun and undeniably heavy direction with an insanely distorted organ that sounds like a monstrous vacuum cleaner over dirge rhythms and growling vocals on their – we reiterate – weird 1968 track 'In Wyrd'. Think if someone left a copy of The Doors' Soft Parade out to warp in the sun on a blown-out toy record player, and then visiting space creatures attempted to imitate what they'd heard.
Chicago, IL's ZENDIK bring it all back down to Earth with their politically-charged 1970 firestorm 'Mom's Apple Pie Boy' which echoes the unabashed rage of The MC5 and anthemic sarcasm of CCR's "Fortunate Son." The band's only publicly released single 'Is There No Peace' (previously heard on Brown Acid: The Sixth Trip) boasts the proto-punk refrain "God is dead!" This equally direct polemic was recorded during the same sessions, but unreleased until now.
The opening cowbell of DAYBREAK's kicked back 1977 rocker 'Just Can't Stay' affirms that the boogie is back on this swaggering nugget of FM-ready rock from San Mateo, CA. 'Just Can't Stay' closes the band's lone 4-song EP, and the band delivered on the promise, vanishing into the ether shortly thereafter.
WEST MINIST'R of Fort Dodge, IA make their desires clear on 'I Want You' with an undeniably driving riff and particularly beefy sounding synth leads that would fit in fine on Sabbath Bloody Sabbath. The song, originally released on Magic Records, is the B-side to 'Sister Jane' and the band's last of three singles issued between 1969 and 1975.
DEBB JOHNSON of Saint Louis Park, MN is a band, not an individual member of the band. The 7-piece group featured a full horn section and three-part harmonies on their 1969 self-titled album. The backstory on their name is: three of the group's seven members shared the last name Johnson, so they then took the first letters of the last names of the other four members and combined them into the word "debb". The politically minded 'Dancing In The Ruin' speaks a truth all-too-familiar to this day backed by a brand of wailing acid rock crossed with Buddy Miles' Expressway To Your Skull style funk.
CRAZY JERRY sends us off on a high note with 'Every Girl Gets One', featuring crunching riffs, rollicking electric piano, stop 'n' start rhythms and a curious telephone call sounding like a creepy answer to the Big Bopper's 'Chantilly Lace'. Crazy Jerry is the alter-ego of guitarist Jerry Ciccone, who can also be heard on a few soul/funk and rock records from the '70s, including The Left Banke's second album. But here, Jerry is…well, simply crazy.
About the Brown Acid series:
Some of the best thrills of the Internet music revolution is the ability to find extremely rare music with great ease. But even with such vast archives to draw from, quite a lot of great songs have gone undiscovered for nearly half a century — particularly in genres that lacked hifalutin arty pretense. Previously, only the most extremely dedicated and passionate record collectors had the stamina and prowess to hunt down long forgotten wonders in dusty record bins — often hoarding them in private collections, or selling at ridiculous collector's prices. Legendary compilations like Nuggets, Pebbles, ad nauseum, have exhausted the mines of early garage rock and proto-punk, keeping alive a large cross-section of underground ephemera. However, few have delved into and expertly archived the wealth of proto-metal, pre-stoner rock tracks collected on Brown Acid.
Lance Barresi, co-owner of L.A./Chicago retailer Permanent Records has shown incredible persistence in tracking down a stellar collection of rare singles from the '60s and '70s for the growing compilation series. Partnered with Daniel Hall of RidingEasy Records, the two have assembled a selection of songs that's hard to believe have remained unheard for so long.
"I essentially go through Hell and high water just to find these records," Barresi says. "Once I find a record worthy of tracking, I begin the (sometimes) extremely arduous process of contacting the band members and encouraging them to take part. Daniel and I agree that licensing all the tracks we're using for Brown Acid is best for everyone involved," rather than simply bootlegging the tracks. When all of the bands and labels haven't existed for 30-40 years or more, tracking down the creators gives all of these tunes a real second chance at success.
"There's a long list of songs that we'd love to include," Barresi says. "But we just can't track the bands down. I like the idea that Brown Acid is getting so much attention, so people might reach out to us."
Brown Acid: The Eleventh Trip will be available everywhere on LP, CD and download on October 31, 2020 via RidingEasy Records. Pre-orders are available for digital (with immediate download of the first
single) at Bandcamp, physical pre-orders at RidingEasy Records.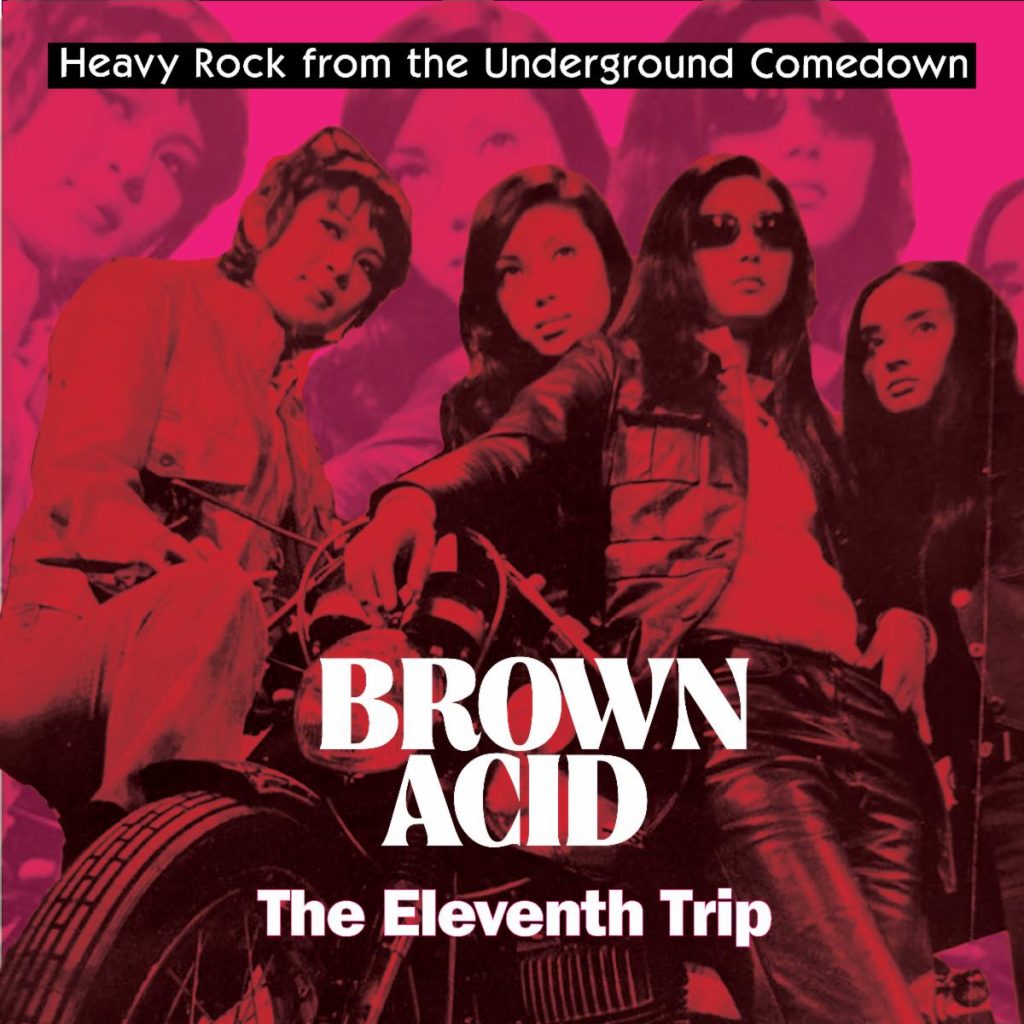 Artist: Various Artists
Album: Brown Acid: The Eleventh Trip
Label: RidingEasy Records
Release Date: October 31, 2020
Track List:
ADAM WIND – Something Else
GRUMP – I'll Give…
BAGSHOT ROW – Turtle Wax Blues
LARRY LYNN – Diamond Lady
RENAISSANCE FAIR – In Wyrd
ZENDIK – Mom's Apple Pie Boy
DAYBREAK – Just Can't Stay
WEST MINIST'R – I Want You
DEBB JOHNSON – Dancing In The Ruin
CRAZY JERRY – Every Girl Gets One
RIDINGEASY RECORDS Online:
Official Site