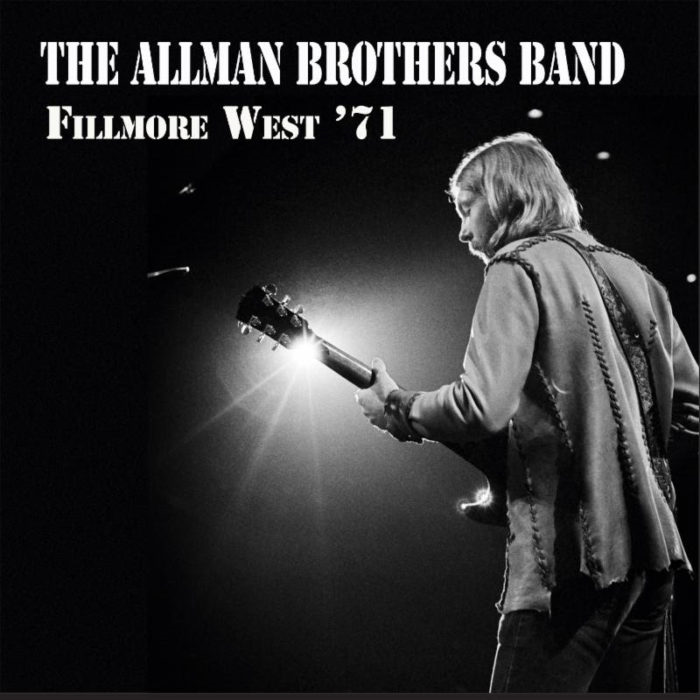 Celebrating their 50th anniversary, the ALLMAN BROTHERS BAND will put out their previously-unreleased Fillmore West '71 collection as a four-CD offering on Aug. 16.
Recorded just two months before their historic At Fillmore East, the newly unearthed recording is culled from three gigs (January 29-31) in 1971, featuring hits like 'Statesboro Blues' 'In Memory Of Elizabeth Reed' and 'Whipping Post' as well as covers like Muddy Waters' 'Trouble No More'.
According to a press release, these recordings showcase a "loose and talkative" ABB, and "you can hear them really dialing their sound in at what would be a final tune-up for the seminal At Fillmore East album."
Check out the tracklist for Fillmore West '71 below.
ALLMAN BROTHERS BAND – Fillmore West '71
Disc 1, 1/29/1971
Statesboro Blues
Trouble No More
Don't Keep Me Wonderin'
In Memory Of Elizabeth Reed
Midnight Rider
Dreams
You Don't Love Me
Whipping Post
Disc 2, 1/30/1971
Statesboro Blues
Trouble No More
Don't Keep Me Wonderin'
In Memory Of Elizabeth Reed
Stormy Monday
You Don't Love Me
Whipping Post
Disc 3, 1/31/1971 Part I
Statesboro Blues
Trouble No More
Don't Keep Me Wonderin'
In Memory Of Elizabeth Reed
Midnight Rider
Hoochie Coochie Man
Dreams
You Don't Love Me
Disc 4, 1/31/1971 Part II
Hot 'Lanta
Whipping Post
Bonus Track:
Mountain Jam Live At The Warehouse, New Orleans, LA 3/13/1970 (first release of this version)
Visit AllmanBrothersBand.com for more information