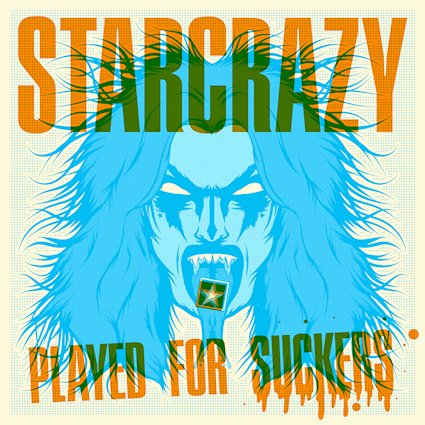 Sydney, Australia's STARCRAZY make their play for the spotlight early next year with this EP, Played For Suckers but, what with the promo sheet espousing such legendary influences as HANOI ROCKS, BOWIE and MOTHER LOVE BONE, I felt we were setting the bar a bit high, perhaps.
The just shy of 2-minutes opener, 'Rise', wasn't that great of an idea as a lead-off, as it's basically an instrumental build to what would, in other times, have been that moment when the backlit stage bathes 'n' blinds legions of die-hard fans, the band kicking off their show in grand style. As it is here, though, it's two minutes of a scant 20 poorly plotted. 'Taking Down The Brutes' flirts with taking down all the expected energy at first, slow and syncopated, before quickly coming to life, leather-gloved and laced, the vocals of Marcus Fraser simultaneously surly and sassy, the rhythm duo of JB and Jack Farmer laying down a slinky groove in places.
Bonus points for rhyming "see ya later" with "refrigerator" in 'Long Way Home', and over the whole EP, no one's winning any awards for lyric writing, that's sure. But, even so, there's something pure and unsullied in the blue collar vibe of STARCRAZY – something of the struggles of the common man – , and I seem to remember another band of Australians who they said the same thing about back in the '70s. Odin Wolf is clearly of the Mick Mars school of guitar playing, not flashy for flash's sake, but able to lay it down in spades when called upon as in the greasy, sleazy T-REX romp of 'Gimme Back My Stereo'.
Closer 'Not The Only One' is the heaviest of the tracks on offer, and again, mention must be made of Fraser's vocal prowess, even this early on. First EP, and he's already got Vince Neil's entire career portfolio beat when it comes to staying on key, take that for what you will. Give these lads a chance if you fancy turning off the news and turning up the radio. There are still good times to be had, and STARCRAZY won't be Played For Suckers.
Review By: Lord Randall
STARCRAZY
Played For Suckers [EP]
Independent
3.5 / 6