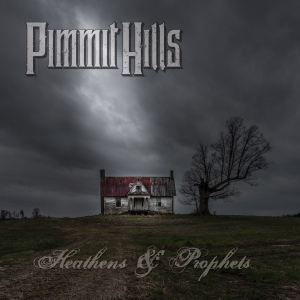 The phrase "born from the ashes of" when referring to a band formed after the end of another usually denotes some sort of catastrophe, some event – or string of events – that caused the upheaval. Not so PIMMIT HILLS, which was birthed out of founding rhythm guitarist Dave Kowalski's decision to leave stalwart Southern troubadours KING GIANT due to family/life obligations. Simple as that. The remaining members were encouraged to continue, and have, this time under the banner of a name taken from the band's native Pimmit Hills, Virginia.
Originally intended as a full-length debut, as thee darke spectre of pandemic did lay hold across thee lands, the quartet decided to take the songs nearest completion and focus on those, resulting in Heathens & Prophets. While clearly sharing DNA with its previous band, PIMMIT HILLS seems to have latched ev0en more onto the proto-'70s elements of KING GIANT's output to good effect, kicking off 'Baby Blue Eyes' like some bastard spawn of EDGAR WINTER's 'Frankenstein' and FOCUS' 1971 hard rock staple, 'Hocus Pocus'. Though almost leaning too much on the 'Frankenstein' riff, the chorus and solo work save the tune from dissolving into mimicry.
If DANZIG still had balls, and had been born South of the Mason-Dixon Line, the slithering guitar and husky baritone vocals might fit well alongside 'Ginger', while 'Lost River' dives deep into DIXIE WITCH/ALLMAN BROTHERS BAND territory, which is to say, PIMMIT HILLS is at home in this country as was KING GIANT – possibly even more so. Syrup-smothered tone and snap-mare rhythms are the order of the day for this EP, and by the time we plow through the AC/DC-fuelled barnburner (which still manages to toss in some FOGHAT in the process), we're lit up and ready to light out for life, taking it as it comes.
Yeah, there are a lot of references to other bands here, and Heathens & Prophets ain't gonna win any blue ribbons at the county fair for originality, but when you're rockin' this hard and this passionately, sometimes that's all ya need to get ya through.
Review By: Lord Randall
PIMMIT HILLS
Heathens & Prophets
Independent
4