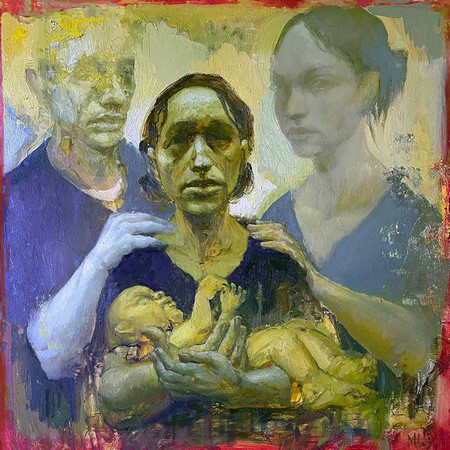 On one side of the coin, I've never just never "gotten" Arkansas' PALLBEARER. They're a doom/doom-influenced band, which should be a selling point for me, they're from the Southern US, which has its own special brand of sorrow and weight, and perspective on things, which should be another. But I just can't. After a couple "good enough" albums on Profound Lore, Heartless arrived on newfound home Nuclear Blast, and the band became a buzzword through no fault of their own. On the other side, Forgotten Days purports to be an album dealing with the theme of family, something I myself am gaining a new understanding of over the past half-decade. So I'm intrigued.
After just under a minute of needless noodling the first riff unfurls, and it's pedestrian as all get out. What's worse is that the sound (mix, etc.) is sonically perfect, making the fact that the 6+ minutes we experience are less a "song" than a riff with vocals lain over the top even more disheartening. Harmony voices appear about 1/3rd of the way through, and seem well done, so there's that, I suppose. 'Riverbed'. Oh, looky here, another riff. Let's see what they can do with it. It's with this song that the reason the quartet's never latched onto me comes clear. There are two PALLBEARERS! There's the one that's more along the lines of Steven Wilson's BLACKFIELD/PORCUPINE TREE folk/prog/indie/psych-lite output (which is admirable, brilliantly layered and nuanced). But then, there's the one which, try as it might, is not believable as a metal band of any sort.
'Silver Wings' proves this, its epic length and dynamics hammering home the point that, when not concerned with traditional heaviness, PALLBEARER is at its best. 'The Quicksand Of Existing' is another riff without a song, never moving from its initial deadpan delivery, solo wankery during the instrumental break be damned, yet the penultimate 'Rite Of Passage' manages to balance both metal sensibility and melodic bliss ala GREEN CARNATION, a compliment in anyone's book.
As it stands, I'll give Metal PALLBEARER a barely passing grade for this one, but it's the other that scores high marks with me. And, if I'm being honest, Forgotten Days might…might just turn into a grower.
Review By: Lord Randall
PALLBEARER
Forgotten Days
Nuclear Blast
3 / 6