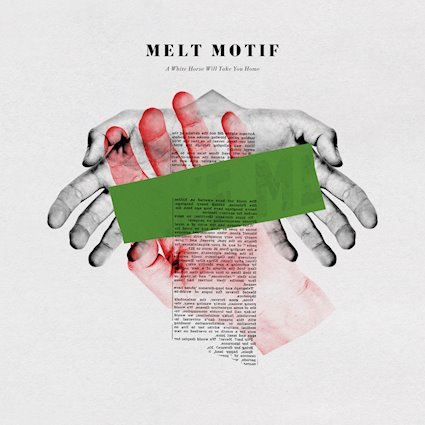 'Sleep' bubbles to the surface, yet quickly pulses, throbs, a being brought to life and speaking secret language via the sugary, beguiling delivery of Rakel. Underneath, though, the insistent vibration, dream pop in its truest, most literal sense. There's a strong '80s keyboard base here, YAZ and earliest DEPECHE MODE springing to mind, and into 'Mine', which even more confirms this kinship, though the members of MELT MOTIF may not've even been born then. Jagged guitars rise from the cave floor, stalagmites formed from the dripping sweet honeyed vocals, adding another color to the sonic palette thus far.
'Everything Will Disappear' lets the darkness to the fore, what could – with a more Teutonic/Scandinavian metal instrumentation and arrangement – fit as an early THEATRE OF TRAGEDY or mid-'00s KATATONIA tune. Less a proper "song" than a soundscape, 'Andalusian Dog' still holds the interest easily and, let's be honest, if you've made it this far into the album you're already deep in the world of A White Horse Will Take You Home as 'Black Hole' pulls you further through its simple and blissful melodies of release.
Dystopian in the style of Blade Runner and the underrated Strange Days, 'The City' breathes, conjuring both the gridlock of a 2am traffic jam due to malfunctioning traffic signals and the high of a dope squat junkie on the crest of his/her black wave. 'Not What They Seem', meanwhile, returns us back to lands of BLACK BOX RECORDER, gossamer vocal intonations over palpitating but strong heart rhythms.
Find yourself a quiet room, or ideally put on the headphones. Lower the lights, or ideally close your eyes. Give yourself to this album, and you'll go on a journey. I wasn't expecting MELT MOTIF, and I certainly wasn't expecting A White Horse Will Take You Home, but I'm going to go along for this ride again and again.
Review By: Lord Randall
MELT MOTIF
A White Horse Will Take You Home
Apollon Records
5 / 6