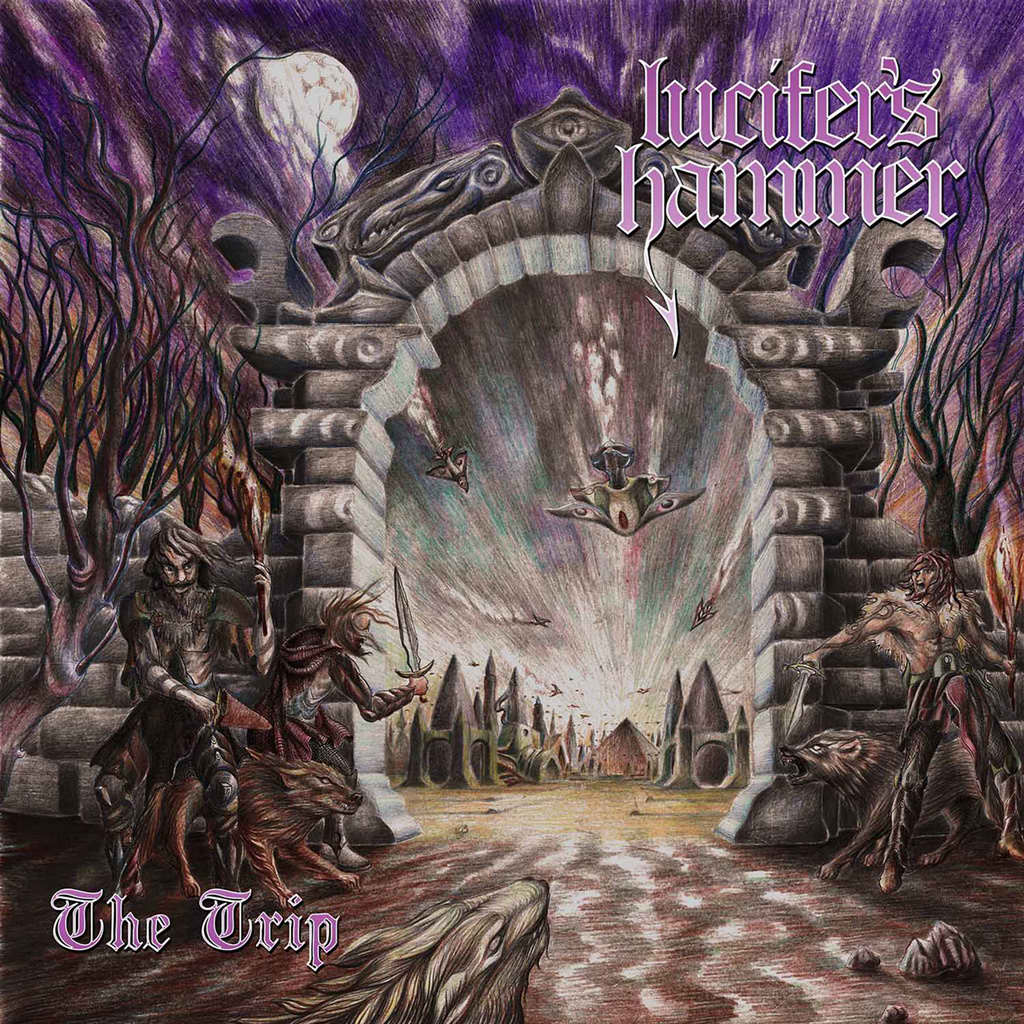 There are a lot of '80s inspired metal bands coming from South America today, but Chile's LUCIFER'S HAMMER is the king of them all. This wonderful band just oozes metal class from every pore, and fans of great guitar work and melody in particular should waste no time tracking this down.
Beyond The Omens was excellent in itself, but The Trip levels up in a big way, as it's more classical and epic in style, with more complex songs that aren't afraid to jam a little. Who does LUCIFER'S HAMMER sound like? Early MERCYFUL FATE and HELSTAR are good starting points, but there's a sizable amount of NWOBHM influence, especially along the lines of the first ANGEL WITCH album. Believe it or not, I can hear some of the vocal melody of DEF LEPPARD's On Through The Night – think of 'Rock Brigade' and 'Hello America' as comparisons.
All seven tracks here are a pleasure to listen to. 'The Oppression' sets the table with a KING DIAMOND-style falsetto scream from singer Hades, who more often has a pleasant Kevin Heybourne ANGEL WITCH type croon. That song is good, but the album kicks into high gear with 'The Forest Of Tar Tac'…just drift back and let the screaming guitar of Hades and Hypnos transport you to the land of red hot jams. These guys are worthy to follow in the footsteps of Tipton/Downing and Denner/Shermann.
Your ass continues to get kicked by 'Illusion' and the speed metallish 'Winds Of Destiny' until the album changes gears slightly with final tune 'I Believe In You', where cool melodies give the track an AOR/hard rock sheen, while the axework still scorches. What a wonderful capper to a great true metal album.
Do not confuse LUCIFER'S HAMMER with the usual South American retro-thrash knockoff band that poses in bullet belts, pentagrams and claw hands. This is much more than that! A band that should be at the top of the traditional metal tree, regardless of origin!
Review By Dr. Abner Mality
LUCIFER'S HAMMER
The Trip
High Roller Records
5 / 6