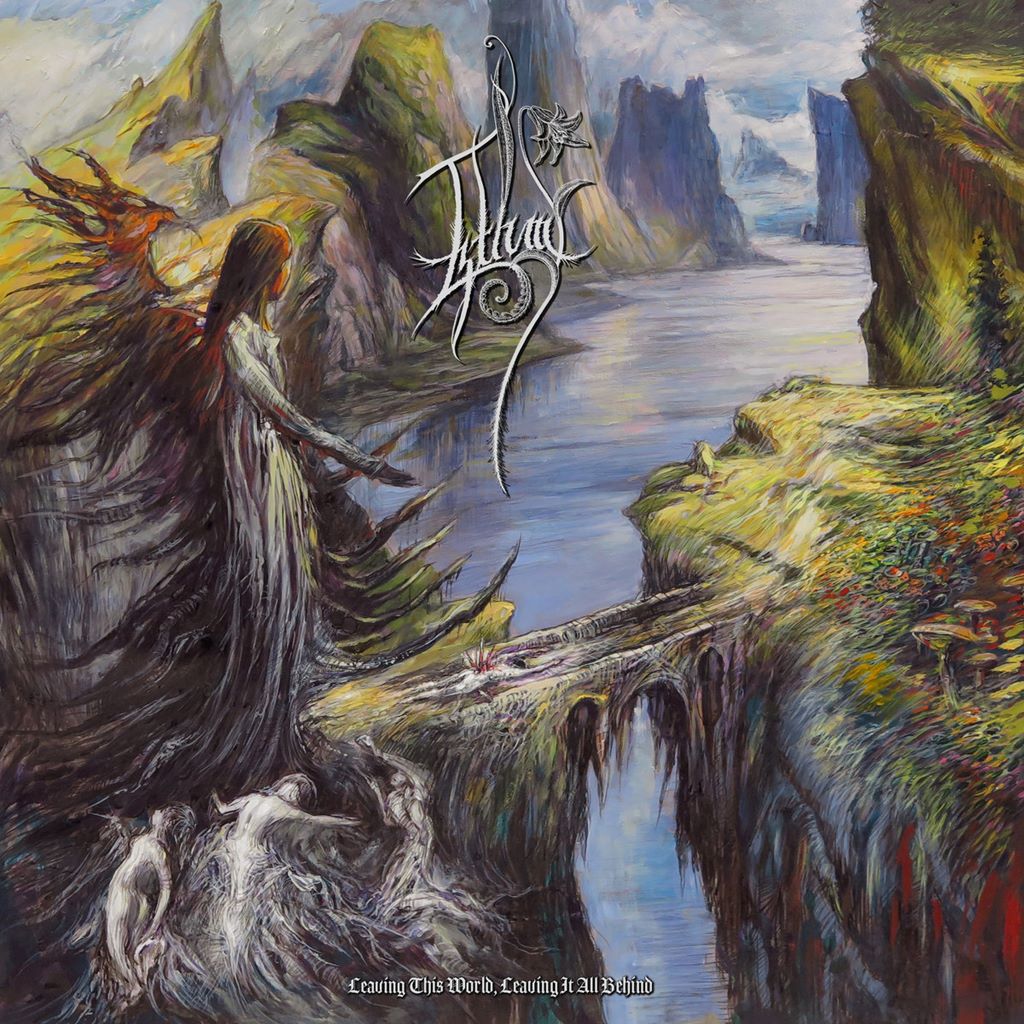 IZTHMI's been practicing the dark arts for just over five years now, and yes, they're from Washington state, but don't let that mislead you into writing the quintet off as some WITR clone of the "Cascadian" black metal "scene".
After the whispered delivery of 'Ever Beneath His Gaze (He Will Drown The World In His Tears)', 'The Shadows Of Our Disillusionment' begins Leaving This World, Leaving It All Behind proper. The guitar tone immediately sets apart IZTHMI, being almost mechanical at times, yet shot through with super-clean lead phrases. While it'll make a good many BM purists cringe or grouse, some will find it refreshing, myself being one. Around 2/3 of the way through the song's ten-plus minutes we're tumbled into an almost PINK FLOYD-ian final segment [think a more ominous 'Echoes'], doomed.
'To Know' is a piano/keys interlude, chanting in the background, acting as a conduit to the gentle fingerpicking leading off 'The Laughable Semblance Of Freedom', and here's another element that will separate fans; if you're looking for clean singing it's not happening here, not even in the sections one would think it "should" fit. This results in abrasive, charred vocals over what is obviously very skillfully played mellow moments. Again, these ears are refreshed. The most traditional sounding entry here, 'It's As If It Were' brings to mind early LIGHTNING SWORDS OF DEATH, but dialed up to 11, oppressive and churning.
While I feel the band needs to work a bit more on true song arrangement, and the album gets a bit cluttered (not in a good way) at times, it's clear they're looking for something. Though there's a bit of meandering and a bit of "Why? Because we can." at play here, after two decent enough albums, IZTHMI have got me looking to the third before I make my final determination. Patiently waiting.
Review By: Lord Randall
IZTHMI
Leaving This World, Leaving It All Behind
Satanik Royalty Records
3 / 6