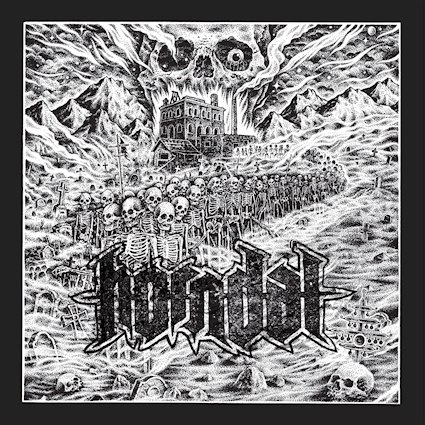 Long live HORNDAL! Their debut album, Remains, brings sludgy, punchy hardcore that almost had me put my fist through a wall just to let out some energy. Remains tells the true horror story of the devil's destruction of their hometown of Horndal in the 1970s. That story is an interesting read, and I encourage you to read it while listening through this album.

The album opens with the single they have been promoting, 'Wasteland', and really sets up the rest of the album. This is an anthem to fight for your life, a true call to arms, and I cannot get enough of it. The d-beats really start flowing after the opening track, and it doesn't let up from there. This is working man's hardcore at its finest. This album brings me back to when I was working in a welder's bay at a keg refurbishing plant. Just the sounds and rhythm of industry driving you through the day. Another noteworthy point of this album is the dynamics. HORNDAL have a fantastic grasp on when to quiet down just enough before raging back to create very satisfying structure to their songs. The only negative point I can put on this album is that the tracks start to run together a bit by the end. My favorite track on the album is 'Hin', due to the amazing build at the 1:12 mark.

My verdict is that HORNDAL has a bright future ahead of them, and I hope they keep the energy rolling.

Review By: Robert Atkinson
HORNDAL
Remains
Prosthetic Records
4.5 / 6