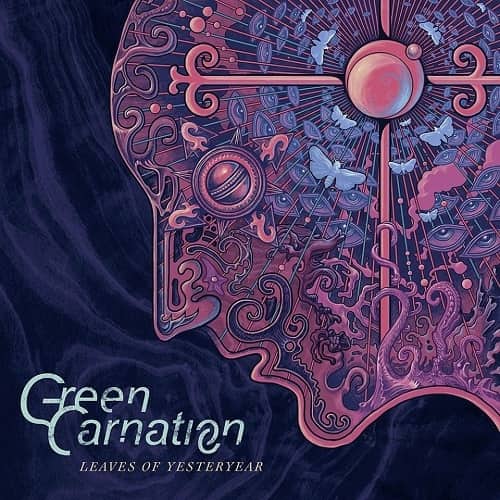 While 2006's EP, Acoustic Verses, was phenomenal, and would have been a worthy finale to a career of majestic highs and Hell-deep lows, something just didn't seem quite finished. I, for one, was affected more than I thought I'd be when GREEN CARNATION announced its end only 2 years later. In 2014, the band teased live appearances, delivering on the promise to great acclaim, but alas, no new music was offered.
And that, my friends and fiends, is why Leaves Of Yesteryear is such a special album. Comprised of largely the same lineup responsible for 2003's A Blessing In Disguise onward, this is the band the majority of us know and love. From the first notes of the title track, we're reminded why (TRAIL OF TEARS excluded, for obvious reasons) no one sounds exactly like GREEN CARNATION, Kenneth Silden's keys taking an unexpected lead role and – while many acts these days choose wisely in opening an album with all the bombast and urgency they can muster – Tchort & co. seem to trust their audience, and knowing that those into this sort of music are "album listeners" to begin with, and not likely to be skipping around or through tracks. The mix seems a bit more airy than we're used to, and I'd like to hear more of Stein Roger Sordal, but maybe that'll come later.
Beginning with towering riffs and low-end swing, 'Sentinels' is the tune I'd have expected as a lead-off track. There's a lot of latter-day CANDLEMASS in what's happening until the chorus, when Kjetil Nordhus' instantly recognizable higher register kicks in, turning the song into its own, the guitars even injecting a bit of power metal gallop at times. Good stuff, indeed. The second of the longer tracks found here, 'Hounds', begins regretful and plaintive, yet resigned, a glimmer of hope shimmering in "From grief I'll rise / From grief I stole". The swagger found in parts is the bluesiest we've heard from the sextet ever, and part of the songwriting's strength is in being able to take something as raw and mud-caked as the blues and play it pristinely.
Ending with a cover of 'Solitude', which I rather felt owed due to 'Sweet Leaf' on Acoustic Verses not being the BLACK SABBATH song, we're left with the feeling that, though dormant for many seasons, the Leaves Of Yesteryear and GREEN CARNATION are still blooming.
Review By: Lord Randall
GREEN CARNATION
Leaves Of Yesteryear
Season Of Mist
5 / 6