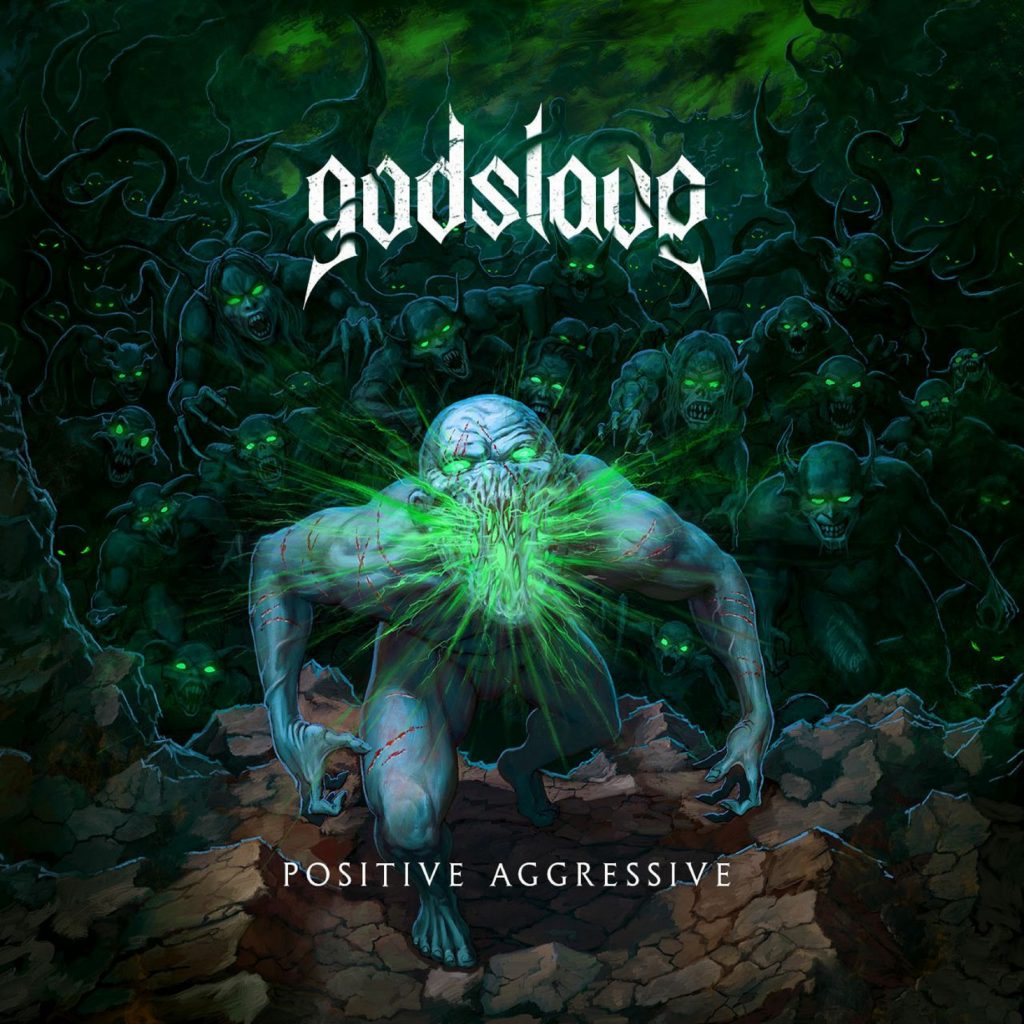 Ahh, thrash. For me, coming into my teens in 1985, heavy metal was beginning to stake its claim in my pubescent, hormone-driven/angst-ridden/terminally depressed soul. MOLLY HATCHET, OZZY OSBOURNE and TWISTED SISTER were slowly ceding listening time to MEGADETH, DARK ANGEL and CANDLEMASS. Things were getting hectic. And then, thanks to print rags such as Metal Mania, and Kerrang, I began to hear about SODOM, KREATOR, etc. It seemed those German bands had a bite, a hunger, razor-styled riffing and raspy vocals that the US bands just weren't giving me. To this day, the thrash I do enjoy is mainly of that Teutonic style, or influenced by same.
Active under the name since 2007, GODSLAVE returns with Positive Aggressive, opener 'How About No' carrying on in the same style as the band's prior work, but it's the spicy dual leadwork that sells the track for me. Vocalist and original member Thomas A. "The Slavegrunter" Pickard is clearly of the Baloff-Blotzer school, nasal as all Hell, but capturing the snide, rapid-fire snark/sneer for which the latter is known quite well. Bonus points for the "shitbag loser" lyric in the title track. Founding guitarist Bernhard "Bernie" Lorig has clearly found his foil/conjoined twin in Manni, who more than holds his own in the staccato riffing department, as in the more mid-paced 'Straight Fire Zone' and the anthem fist-pumper 'Flap Of A Wing'.
'Show Me Your Scars' is hard charging in the verses, almost power ballad in the chorus, but this gives the Koch/Huwig rhythm section a chance to shine. Also, for you bangers of heads, you dedicated windmill warriors, fair warning: there's a section [2:55-3:00] that will induce whiplash, where it seems things are just about to careen off the rails, only to snap back just in time. Impressive, and keeps the listener alert.
With 'Final Chapters First', the quintet doesn't do the expected and take a break, letting the album coast to a stop, but keeps the forward momentum pushing, ending on a high note, moments of Blessing In Disguise-era METAL CHURCH (think 'The Powers That Be') being passionately conjured. Make no mistake, GODSLAVE remains underrated in the book of modern thrash, and, with Positive Aggressive, has possibly crafted my favorite thrash album the past few years.
Review By: Lord Randall
GODSLAVE
Positive Aggressive
Metalville
5 / 6