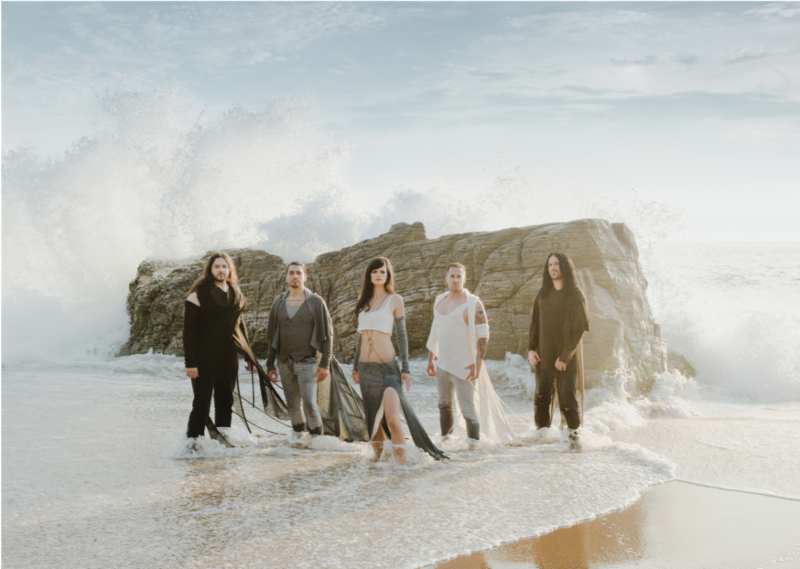 VISIONS OF ATLANTIS will release a new album titled Wanderers on August 30th via Napalm Records. Following their chart breaking album The Deep & The Dark, the band adds another spectacular album to their repertoire.
Wanderers is VISIONS OF ATLANTIS' seventh album. The listener will be taken on a journey into the breathtaking depths of the symphonic metal universe. Wanderers offers a captivating musical and lyrical journey across the untamed seas along a powerful path towards self-discovery. It's armed with amazing duets by Clémentine Delauney and Michele Guaitoli and is one of the most intense and profound symphonic metal albums the world has seen (or rather, heard) in the past 15 years.
VISIONS OF ATLANTIS really went all-in regarding their promotional photoshoot for the album. They chose a deserted beach along the coast of the vast Atlantic Ocean, including stranded pirate ships and a harsh coastline created by the elements. It is quite obvious why the Peninsula of Quiberon was the perfect destination for this photo shoot: the natural light and rough seas supplied a beautiful backdrop and the pictures capture the vision of Wanderers perfectly.

Accompanying the release of Wanderers, the band will set out to tour many places in Europe:
ALBUM RELEASE SHOWS:
28.08.19 AT – Bruck/Mur / Dachbodentheater
29.08.19 DE – Munich / Backstage
30.08.19 DE – Bochum / Rockpalast
31.08.19 DE – Siegburg / Kubana
01.09.19 DE – Frankfurt / Nachtleben
Special Guest for FREEDOM CALL:
04.10.19 SK – Kosice / Kasarne
08.10.19 DE – Hamburg / Knust
09.10.19 DE – Berlin / Musik & Frieden
10.10.19 DE – Aschaffenburg / Colos-Saal
11.10.19 CZ – Prague / Meet Factory
12.10.19 CZ – Zlin / Masters Of Rock Cafe
13.10.19 HU – Budapest / Dürer Kert
16.10.19 DE – Cologne / Club Volta
17.10.19 DE – Stuttgart / clubCANN
18.10.19 DE – Erfurt / HsD
19.10.19 CH – Pratteln / Z7