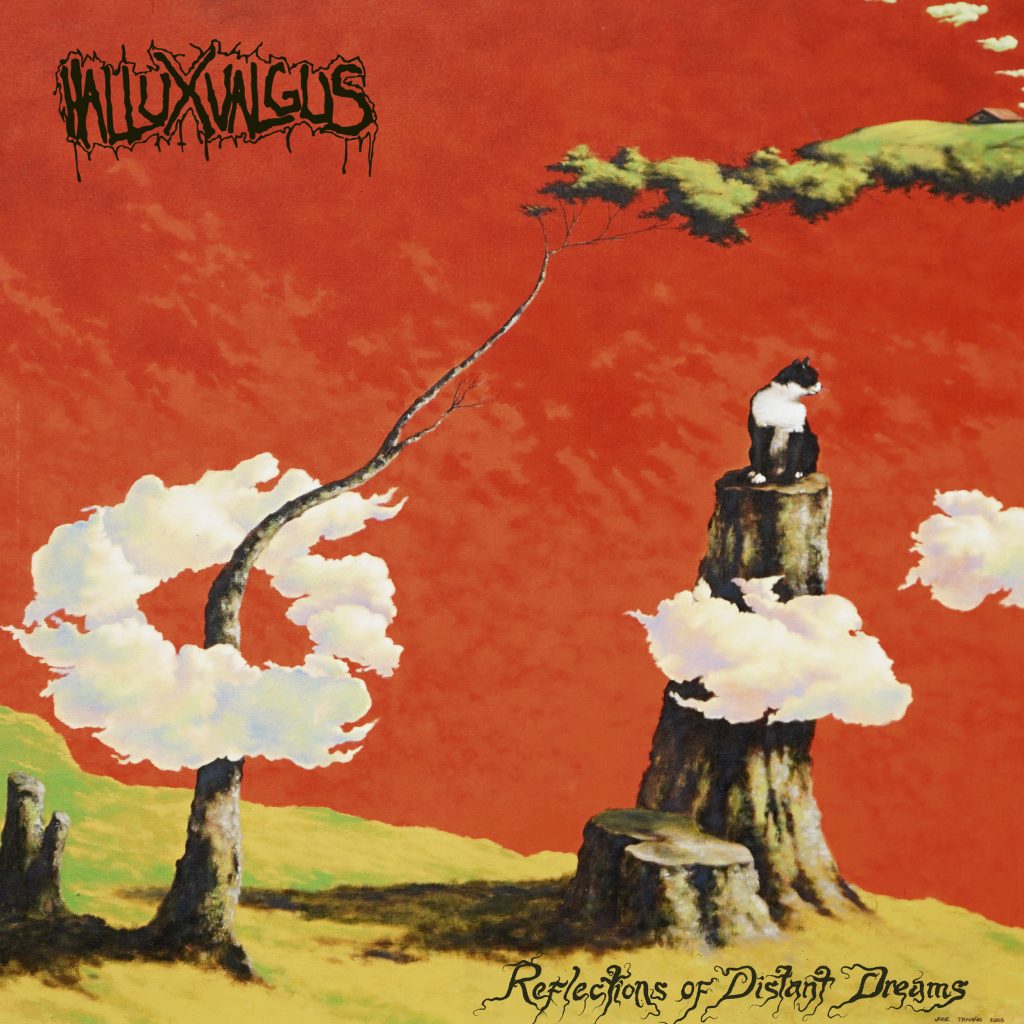 Okay, so the cat got me. I mean, look. On the cover. It's a cat. And it looks like my cat, for fuck's sake. I've been going through a late '60s-early '70s psych/folk phase for the past year or two such as INCREDIBLE STRING BAND blended with monster '70s guitar rock ala CROW and RAM JAM, and the art of this first widely-available edition left me unsure what to expect, but intrigued enough to press Play.
A hard-charging riff sets Reflections Of Distant Dreams off at a gallop, 'Ghastly Reflections' harking back to the days when thrash/speed was beginning its first insistent stomps/steps towards death metal. It's the final section of the song that hooked me, though, as starting at 3:02 an utterly rawkin' solo mounts the ego ramp, early PRIEST and SCORPIONS being conjured before tumbling off and into 'Murderous Instinct'. Bits of DISMEMBER are fed through a woodchipper, less Like An Ever Flowing Stream and more Massive Killing Capacity, more pressing than ponderous, that is, until the coda slows things to a hazy crawl.
When a band's got a song it believes in so hard that it's been on all three releases since 2016, now that's some dedication. Bonus points if the song is called 'Hot Puke', which lives up to its name and more here, ferocious d-beat slammed so hard against fang'ed and claw'ed death that some bestial, perverse vomit golem is born. This one just sounds fun to play in a live setting, where I'd wager HALLUX VALGUS thrives.
'Crawling Are The Dead' swings wildly between rollicking near death 'n' roll glee to scattershot hysteria, elements of EXPLOITED spiking through here and there, and – at nearly nine minutes 'Internal Cryptic Gathering' acts as both a finale and a chance for the Chilean three-pronged attack to follow the metal of death wherever it leads. Tack on the keyboard solo, and I think that's really part of what makes Reflections Of Distant Dreams such a quirky, Dali-esque album at its heart. Cats are cool. Sometimes so is not knowing what to expect from an album.
Review By: Lord Randall
HALLUX VALGUS
Reflections Of Distant Dreams
Edged Circle Productions
3.5 / 6