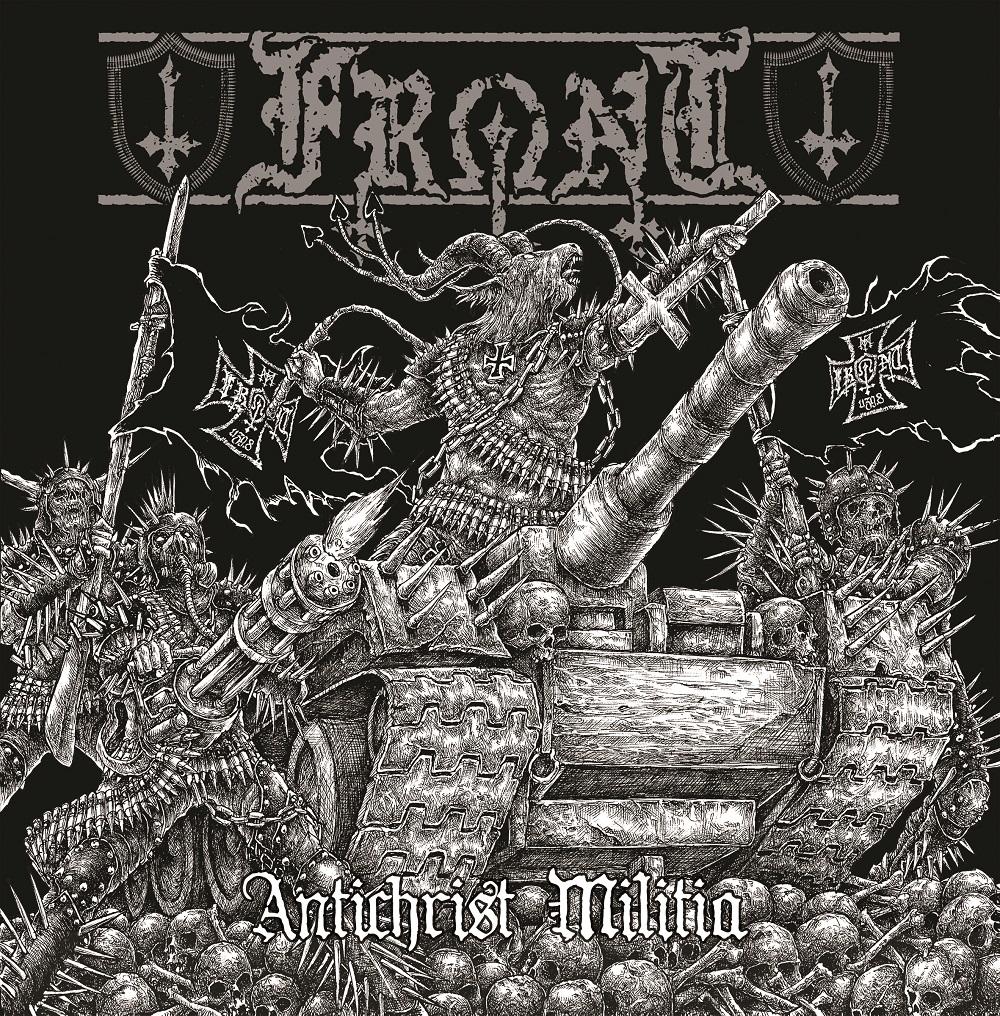 After four years and doubling its lineup in size, Finland's FRONT return with MCD, Antichrist Militia.
Still on the Iron Bonehead imprint, still peddling its brand of war-tinged blackthrash, a bit of death sprinkled here and there for taste, Missile shriek string histrionics and an instantly catchy riff & rhythm riot advance onto the battlefield, the title track literally spilling over with bloody ideas come to fruition, riffs imprinting on your memory at first listen, and would've stood just fine as an opener without the seemingly obligatory and needless intro, 'Doom Cult Legion'.
After the blatant MOTORHEAD homage 'Iron Front', 'Venom & Salt' rains down pestilential power, and it's here that the most thrash influence is found on Antichrist Militia [1:47-2:34], scathing leadwork raising and ripping open blisters with abandon. 'Mouths Of War' saunters in after, less a song than a sonic platform, recalling THE MONOLITH DEATHCULT's tasteful use of samples and spoken word over a bed of slogging, mudborne crawl.
Finale 'Machinegun Blasphemy' lives up to its name, past the redline and around again in the speed department when compared to the rest of the MCD, but not skimping on the grimed-out groove either [2:21-2:52], disintegrating into blast, then picking back up shortly [3:10-3:40], the song's coda guaranteed to stick in your brainbucket for a good while after it's over.
More proficient at their instruments than its members would probably want to admit, able to conquer various styles without coming off as contrived in the least, FRONT has given a taste of, hopefully, what's to come from the quartet.
Review By: Lord Randall
FRONT
Antichrist Militia [MCD]
Iron Bonehead
4 / 6