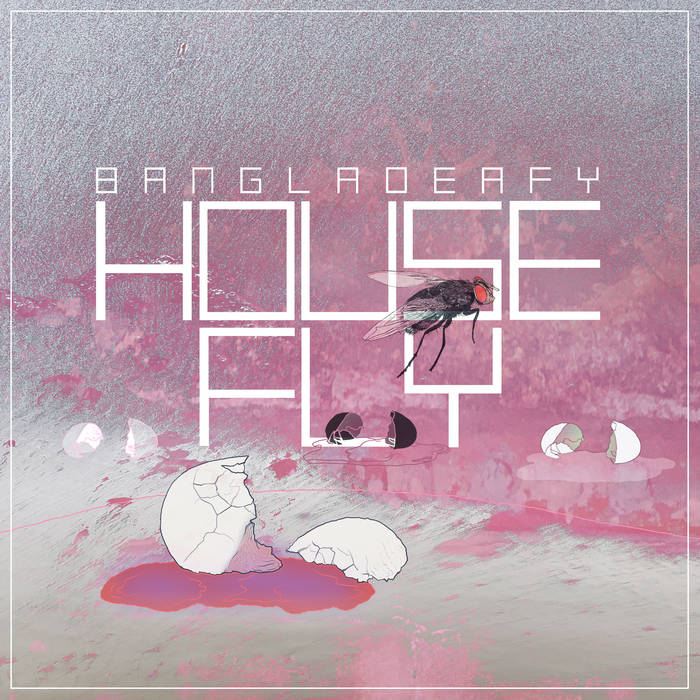 The last time I encountered BANGLADEAFY, they were a mind-melting avant-garde bass-and-drum assault that probed the limits of fusion playing. Strike that memory of BANGLADEAFY. Delete it and wipe it from your memory core. This version of BANGLADEAFY is a completely different beast. And it's a totally refreshing one.
For those who don't know, the band is a duo. Powerhouse drummer Atif Haq originally hails from Bangladesh and bassist/vocalist Jon Ehlers has hearing impairment…hence the name. Housefly finds them reinventing themselves as a synth-driven rhythm bulldozer and erasing their former electric bass gymnastics. In fact, the bass does not exist here.
Housefly is 13 rapid fire excursions into nervous, high energy synth and drum with harsh vocals. The longest track is 2:49 and the majority are under two minutes, with a fair amount running under a minute. The album – which could more properly be called a mini-album – breezes by and is not boring for a minute. The energy of these tracks is infectious, and seems to combine the catchiness of GOBLIN/JOHN CARPENTER type synth work with the ferocious intensity of SKINNY PUPPY and FRONT LINE ASSEMBLY. Haq is a wildman on the drums, like he's always been, but here it's easier to digest than previous BANGLADEAFY material. Ehlers pounds the synth pads and adds harsh vocals.
Now there are some more ambient and melodic moments like 'Theme From Housefly' and the three 'Instar' tracks, but most of it is hyper-active, nervous and heavy in its own way. The synth tones are thick and fat and analog.
I found it a lot of fun to listen to and tracks like 'Bloom', 'Lifeforms' and 'Tar' get the blood pumping. It's a nice switch from the usual guitar oriented stuff I listen to, and I think BANGLADEAFY have made a clever and necessary swerve in their career.
Review By: Dr. Abner Mality
BANGLADEAFY
Housefly
Nefarious Industries
4 / 6