OBITUARY / ABBATH / MIDNIGHT / DEVIL MASTER
Oct. 13, 2019
The Majestic, Madison, WI
By: Dr. Abner Mality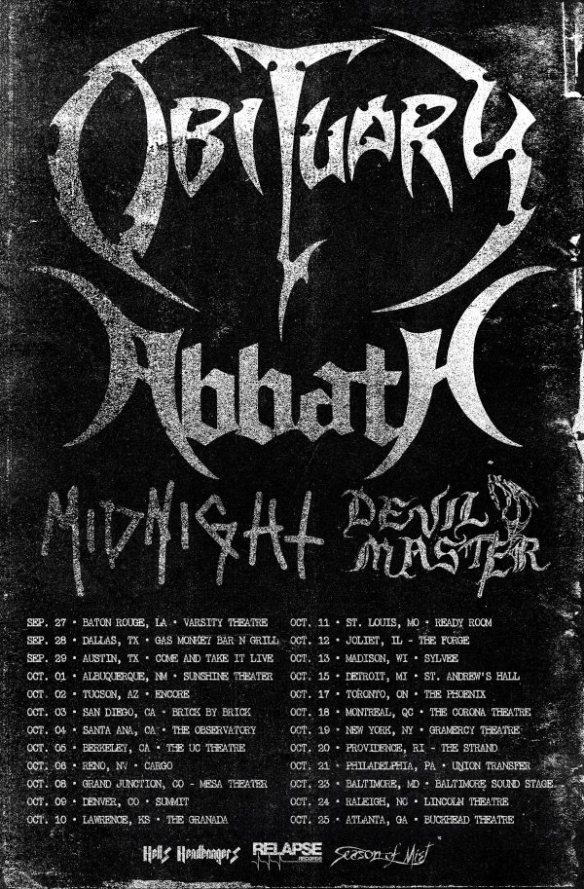 I was in a bind. There were a number of cool concert options available to me, but with this inconvenient thing called a weekend work schedule looming over me like a dark cloud, I could select only one show to get time off for. It wound up being this one and I think it was a solid choice. From top to bottom, this was an interesting lineup for the diehard metal connoisseur.

The show was originally scheduled for the Sylvee but moved to The Majestic with about a week to go. Having never been to the Sylvee, I can't say if that worked out for the best or not, but the Majestic was hardly the most comfortable venue I've been in. It's an old movie theater turned multi-purpose venue without a ton of charm but decent acoustics. I will say that the staff there were most accommodating and treated us metal scum with respect. Speaking of which, the turnout was excellent for a chilly Sunday night in October and the Wisconsin metal faithful were out in abundance. If this wasn't a sellout, it didn't miss by much.

Taking the stage promptly at 8:00 was DEVIL MASTER, whose Relapse album Satan Spits At Children Of Light has got a bit of a buzz. I was not a huge fan of the band's peculiar style on record, but live, they were a more entertaining proposition. The stage was swathed in oceans of cheap cobwebs and drowned in eerie purple/blue light which remained for the entirety of the set. It was easy to see this is a youthful band, with a kind of kitschy Halloween aesthetic involving capes and simple makeup. Their female bassist looked adorable despite the facepaint and I wouldn't have minded cuddling with her in front of a cremation pyre.

I will say one thing for DEVIL MASTER, their sound is unique and not easily comparable to any other band I can name off the top of my head. The foundation of their music is an aggressive punk/metal hybrid, but where so many bands have typical guitar soloing, these guys instead use a jangly, watery kind of Gothic tone boosted by tons of echoey effects. No real "jamming" guitar solos are evident at all. The result gives their music a kind of queasy, unearthly feel.

The band played hard and fast, with one tune blending right into another with little to no banter between songs. That gave things a very urgent and immediate tone. The crowd mostly seemed to dig them and they got a strong response for the opening band of a 4-band show. I will have to go back to their album and see if it has a different effect on me this time around.


MIDNIGHT was up next and these hooded headbangers are more of a known quantity, with a long record of service in the underground. I've seen them live before and they never leave anything on the table…they attack like pitbulls and don't let up with the length of their set.
Due to the compact nature of their set, this was very much a rocket-fueled run-through of MIDNIGHT classics, including 'Lust, Filth And Sleaze', 'Black Rock 'N' Roll' and 'You Can't Stop Steel'. For those not familiar with Athenar and his bunch, imagine evil thrashed up rock n roll like ZEKE's demented little brother. The dudes run like madmen from one side of the stage to the other while pounding out their odes and it's very much a high action set. No standing around looking at their feet or watching their fingers on the frets. Ironically, my favorite tune was the slowest…'Satanic Royalty', which has such an awesome hook to it that nobody into hard music could resist. MIDNIGHT mowed through the crowd like a buzzsaw, did their thing, and left. The Madison crowd was absolutely into them and with the the band now signed to Metal Blade, big things could be on the horizon.
After MIDNIGHT's departure, the already chilly Madison night dropped about another fifty degrees in temperature as the Blizzard Beast, ABBATH, took the stage. He's one of the great characters of the modern metal scene and a superb guitarist to boot, and I was keenly looking forward to his performance. In front of a huge cut out logo, ABBATH and the boys came roaring in with a barrage of material from the new album Outstrider. 'Count The Dead' and 'Bridge Of Spasms' were a bit muddy at first, but things gradually settled in and I was able to latch on to the controlled chaos of tracks like 'The Artifex' and 'Harvest Pyre'.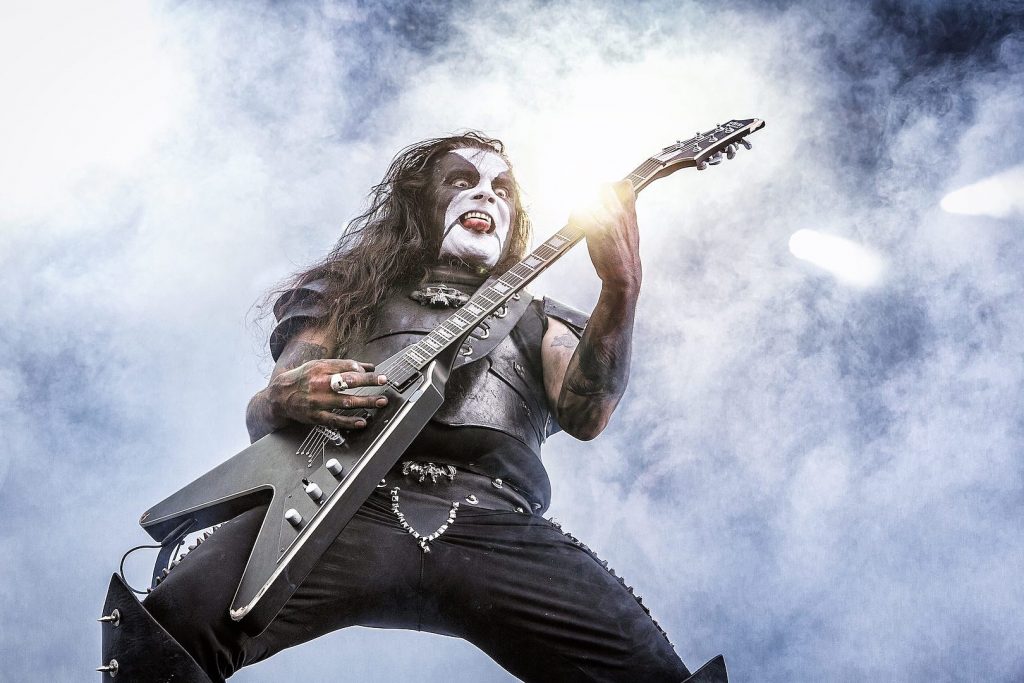 ABBATH is one of those guys who is endlessly entertaining to watch live. A stone deaf person would be able to enjoy one of his shows just watching his body language and facial expressions. He's come up with a character that is both mythic and comic, looking like an otherworldly warrior from another dimension but at the same time acknowledging the humor of the persona with a wink and a grin. You wouldn't want to cross the guy, but you could have a beer and a smoke with him after the battle is over. ABBATH himself is the focus of the show, but he is very generous is giving lead solo time to his guitarist Raud. That's especially notable considering how good of a guitarist ABBATH is himself.
The bulk of the show's material was taken from the new Outstrider album including the excellent title track, but we did get a bracing run-through of IMMORTAL's 'One By One' and I's 'Warriors'. If I was to be real picky, I would have liked to hear 'Antarctica' and 'Riding The Storm', but in a compressed set, you can't have everything you want. The gig ended with the furious rush of 'To War!' and ABBATH emerged to take a bow though there was no encore even though one was richly earned.
It was 30 years ago when the death metal world underwent a quantum shift with the release of OBITUARY's first album, Slowly We Rot. That opened a whole new level of sickness and morbidity beyond even what DEATH was putting out at the time. Tonight's OBITUARY set was for the most part a celebration of this necrotic even, with virtually the whole damn album being played by the Floridians.
First, though, we had an intro of 'Snortin' Whiskey' by PAT TRAVERS BAND leading into the impossibly monstrous groove of 'Redneck Stomp'. If there's a better and catchier death metal instrumental, I have no idea of what it would be. One thing was sure right from the jump, this was going to be one of the most massively HEAVY shows ever heard by human ears. The guitars were incredibly down-tuned, creating an infrasonic rumble that literally rattled my ribcage. And the show would only get heavier as it lumbered on…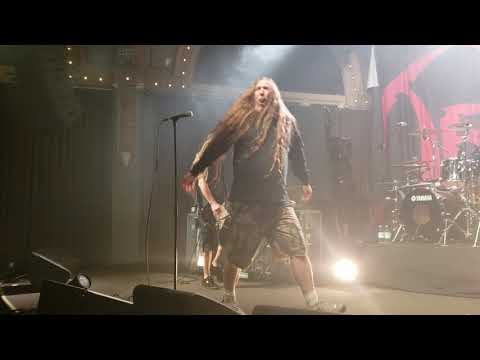 John Tardy appeared to scream out the lyrics for 'Threatening Skies' and this long-haired Florida boy seemed almost deliriously happy to be playing for us tonight. Honestly, I've never seen a guy more happy to be performing on stage. He sounded great, too, if your idea of sounding great is resembling a corpse screaming to get out of his coffin.
From then on, it was a real stroll through the early days of OBITUARY. Track after classic track of primitive, super-sludgy death metal…'Chopped In Half', 'Turned Inside Out', 'Don't Care', 'I'm In Pain'. It all kind of merged together into one swampy morass of sickness. This may have been the heaviest show I have ever seen.
Although albums like World Demise and Cause Of Death got their moments to shine, most of the set was all about Slowly We Rot. The second half of the set focused almost exclusively on this classic. I never thought I'd get a chance to hear early cuts like 'Godly Beings' and 'Words of Evil' done live, but tonight was the night. Although there were no massive pits going on, there was quite a bit of crowd surfing and the crowd remained energized for the entire set, even after the high energy assaults of ABBATH and MIDNIGHT.
After the brutal rifferama of 'Intoxicated', the boys left the stage only to return for a richly deserved encore, where 'Dying World' and 'Slowly We Rot' were left to ooze like seething pus amongst the faithful.
All in all, it was a great night for underground metal maniacs, and the bands as well as the crowd seemed super-stoked. This was one of those shows that makes you feel the extreme metal scene has still got plenty of life left in it. Ironic considering the death obsession of OBITUARY…