Midwest sludge behemoths and all-time weed metal pioneers BONGZILLA unleash their brand new single 'Sundae Driver' exclusively on Decibel Magazine. The song is taken from their forthcoming fifth album Weedsconsin, due out April 20th and available to preorder now through Heavy Psych Sounds.
Featuring a three-piece lineup of all original members—bassist/vocalist Muleboy, guitarist Spanky and drummer Magma, 'Sundae Driver' delivers the kind of hazy, heavy-as-hell doom that BONGZILLA earned their reputation peddling. The riffs on 'Sundae Driver' are low and slow, sounding like they originate in a smoke-filled room; paired with a flattening rhythm section, the instruments create the ideal backdrop for Muleboy's throat-shredding, smoke-destroyed vocals.
Listen to BONGZILLA's new single 'Sundae Driver' HERE
On the fringe of chaos, in the Year of the Pandemic, the Cannabeast has awoken. World pioneers of Weed Metal BONGZILLA return with their new full-length album, sixteen years after their last record, Amerijuanican. Over the span of Weedsconsin's six tracks, Bongzilla delivers heavy doses of crushing stoner doom and psychedelic space rock that sets it apart from earlier material.
This record travels down a path of heavy riffs, mind-expanding jams, sonic tones, and stomping beats in the band's first release as a thunderous three piece, with Muleboy moving from guitar to bass. Approaching these songs as a three-piece has created more space musically and allowed the band to showcase their musicianship in a different way, resulting in a sound that is very heavy, along the lines of Gateway tone-wise, but sonically clearer.
Weedsconsin was written by Muleboy (bass, vocals), Spanky (guitar), and Magma (drums) and recorded and mixed by the late John Hopkins at Future Apple Tree Studios in Rock Island, Illinois in October 2020. It was mastered by Carl Saff at Saff Mastering in Chicago, Illinois, with an artwork design by Eli Quinn. It will be released on April 20th, 2021 on various limited edition vinyls, black vinyl, CD and digital.
BONGZILLA – Weedsconsin
Out April 20th on Heavy Psych Sounds – PREORDER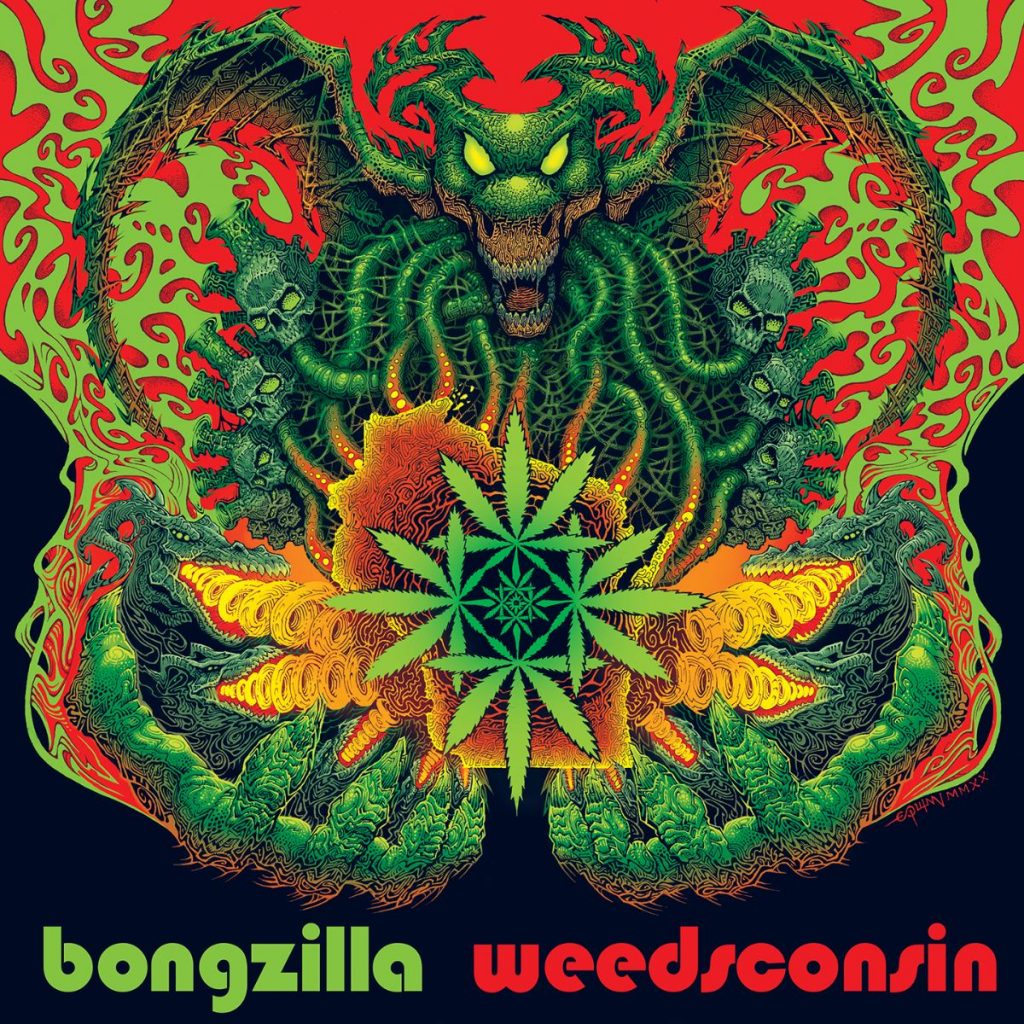 Weedsconsin Tracklist:
Sundae Driver
Free The Weed
Space Rock
The Weedeater
Earth Bong, Smoked, Mags Bags
Gummies
BONGZILLA is:
Mike "Muleboy" Makela – vocals & guitar
Jeff "Spanky" Schultz – guitar
Mike "Magma" Henry – drums
BONGZILLA Online:
Official Site
Facebook
Bandcamp