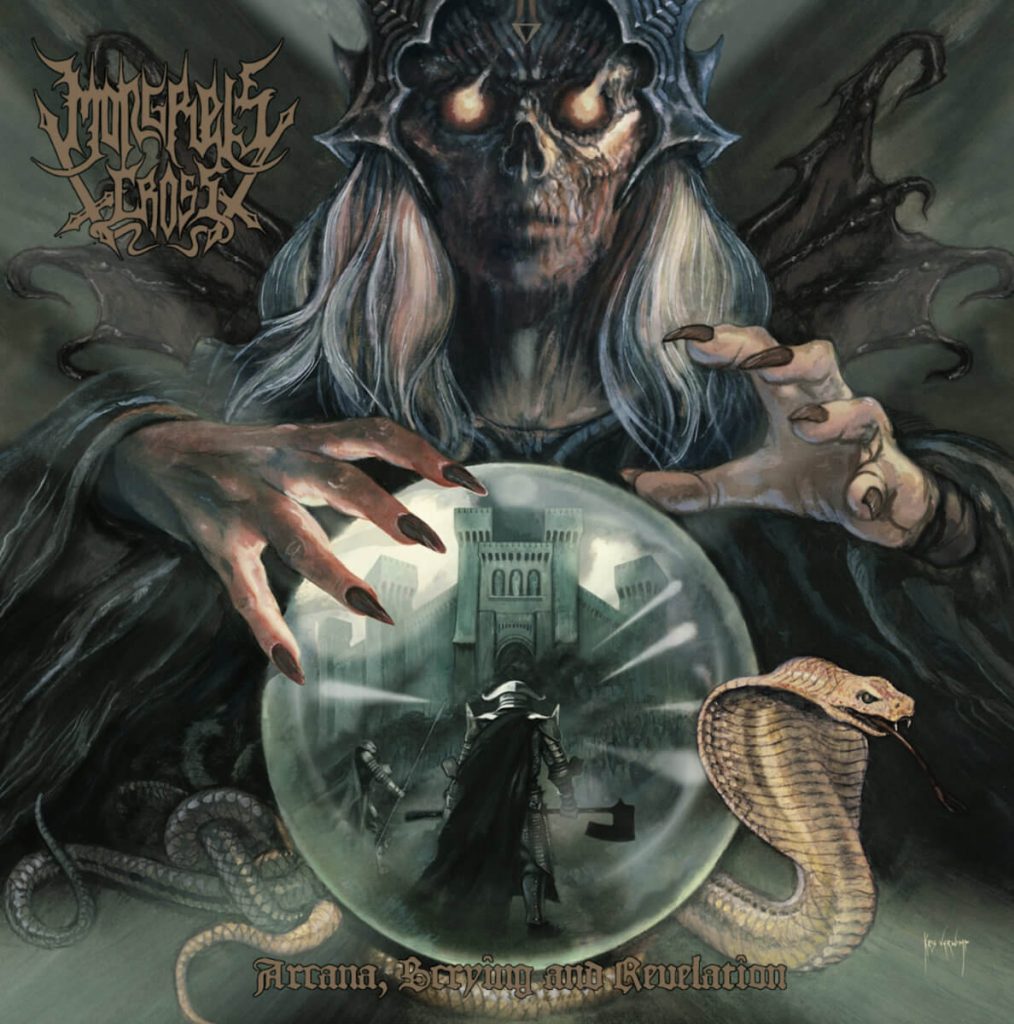 Now, on its all-important third album, the almighty Proscriptor McGovern (ex-EQUIMANTHORN, ex-MELECHESH, ex-a-little-band-you-might-have-heard-of-called-ABSU) joins the advancing force of Brisbane's MONGREL'S CROSS, a coup for any band. But the inclusion of such a "name" player with such a respected history doesn't mean crap if the output now isn't quality, does it?
Majestickally leading off with 'Suffer The Witch To Live', the beast transforms from militant march to blurred bestial bile flung about the innards of the listener's cranium, the aforementioned vocalist in as fine a form as ever, but that's not even the most impressive thing. What's truly of note is how easily his style blends with the now-sharpened trident of Grand Mongrel, Wretch and Goet to create something reminiscent of RUNNING WILD before they turned into pirates, or SABBAT (UK) at a slower, more methodical pace. 'Fate Of The Grail Pt. 1' follows, and here it must be stated that the guitar work of Grand Mongrel is of a sort not often enough heard in this blackened thrash style; emotive, tuneful, yet biting, and always – always – serving the song.
There's something of MERCYFUL FATE in the structure of 'A Magician's Prayer', enough to make one wonder what MONGREL'S CROSS could accomplish with a dual axe attack. As it stands, though, the dramatic flair (and pairing) of vocals and instruments here is impeccable, each member bringing his best to the battle, a quartet of ash-black warriors fit for the fight. The spell continues to be cast in 'The Whispering Void', the time signature/vocal arrangement recalling Proscriptor's aforementioned work, but not in mimicry – it's just simply how the man works, and he and MONGREL'S CROSS is (stated once more, because it's that important) such an ideal melding of metal minds, the likes of which is rarely seen/heard.
My annual Top 10 lists tend to weigh heavily on doom, with a few black/pagan bands tossed in because they made that favorable of an impression. Arcana, Scrying And Revelation, after repeated listens, threatens to be a late, but worthy arrival. At this rate, the MONGREL'S CROSS legion, in the words of the MITHRAS album title, may just be forever advancing.
Review By: Lord Randall
MONGREL'S CROSS
Arcana, Scrying And Revelation
Hells Headbangers
5 / 6