Swedish Death Metal trio FURNACE have released the third single , '94 Bloch Lane', from forthcoming album Dark Vistas. The single is available on YouTube, Bandcamp, Spotify, and all other major digital platforms.
FURNACE's Dark Vistas will be released October 9 on Soulseller Records. Dark Vistas is conceptual death metal in a melodic, thrashing and gothic setting.
What if Paradise Lost, Deceased and any Swedish death metal band of choice came together for a full-on storytelling album? Well then you´d have FURNACE´s Dark Vistas. Comprised of members from Paganizer, Demiurg and Assassins Blade, as well as Cult Of The Fox and Void Moon, this Swedish outfit explores a new melodic death metal vista of sorts. It's still death metal, but it's also much more. Delve deep into the Lovecraftian and cult-riddled mythos of FURNACE with Dark Vistas.
"As a far-ranging concept album, Dark Vistas offers us the passenger seat on a descent into madness."
"FURNACE brings a beloved, gothic melodeath sound with a Lovecraftian edge. An album tinged with as much earnest musical delivery as it is with forward-thinking conceptual storytelling."
Monsters, Madness And Magic
"A searing death metal album. Full of dark mythos and Lovecraftian horror."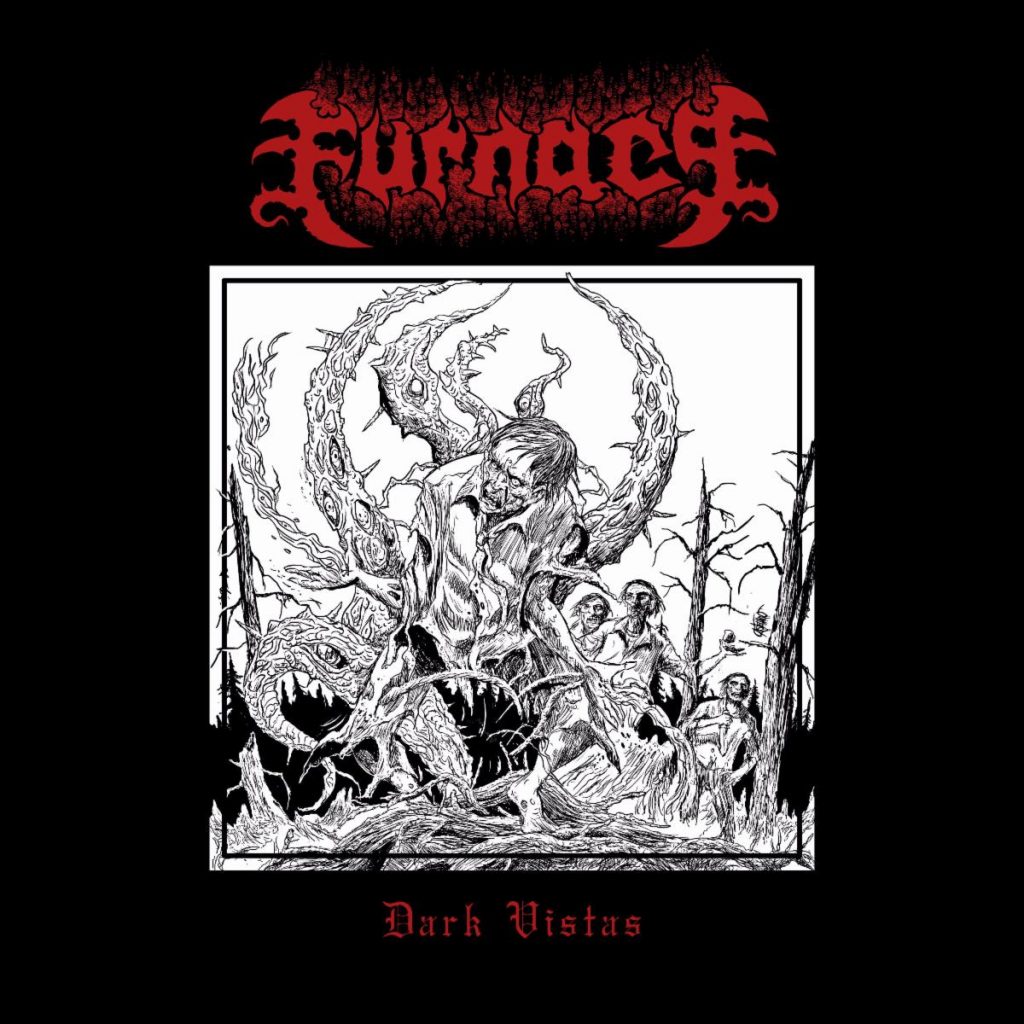 Track Listing:
1 – Suburban Nightmare
2 – The Other Ones
3 – The Calling
4 – Yog-Sothoth (The Key And The Gateway)
5 – 94 Bloch Lane
6 – Trapped!
7 – A Journey Through Dark Vistas
8 – Escape
9 – From The Blackest Void
10 – Eve Of Triumph
11 – Another Ending
Album Credits:
Produced by FURNACE
Music by Johansson, lyrics by Svensson
Recorded at the Rotpit and Night Wind Studio
Mixed and mastered by Svensson at Night Wind Studio
Cover art by Juanjo Castellano
Cover layout and logo by Roberto Toderico
Photos by Lisa Ahlin and David Stranderud
Line-up:
Rogga Johansson – Guitars and Lead Vocals
Peter Svensson – Bass and Backing Vocals
Lars Demoké – Drums and Percussion
FURNACE Online:
Facebook