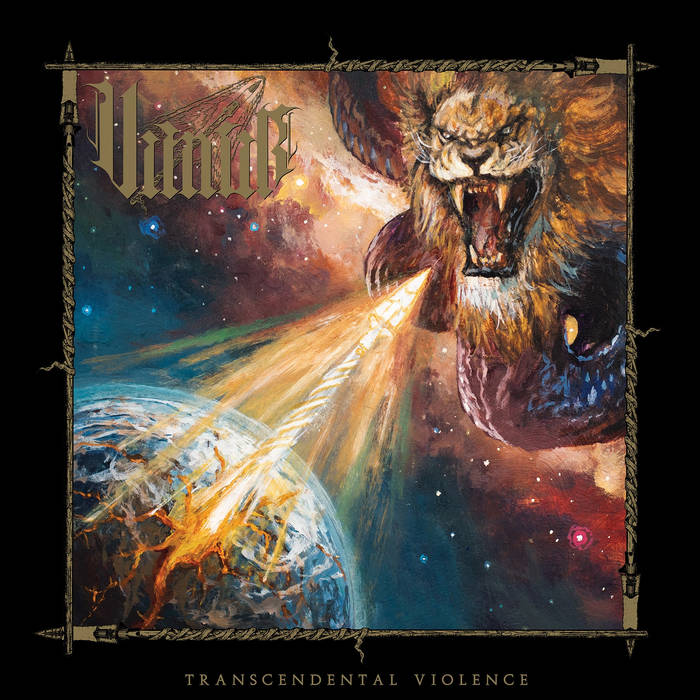 Once again showing conclusively that the best black metal doesn't have to come from a frosty fjord or frozen tundra, VIMUR from Atlanta, Georgia unleash a beast of an album with Transcendental Violence. I enjoyed their previous work, Triumphant Master Of Fates, but this trumps it in just about every way.
That is immediately apparent with 'Aeonic Upheaval' and man, oh man, does this SOB slam into your head like a sledgehammer. Combining the speed and majesty of "old" IMMORTAL with the ferocity of a MARDUK or GORGOROTH in full flow, this is a monster of power riffing that has your head banging for 8-plus minutes. Yes, you can bang your head to black metal when it's constructed like this. Such a killer song and frankly the album's best, yet the rest is nothing to sneeze at. Much shorter but just as fierce, the title track follows and 'Infallible Contra Animus' is another ripper.
'Emanations From The Sun Behind' focuses more on soaring, triumphant atmosphere, again bringing the best of IMMORTAL or INQUISITION to mind. There's more melody, but the power is still there. 'The Greatest Dying' actually ends with a metallic take on Chopin's Funeral March if I'm not going nuts and then 'Death Absolution' slows things down to doom pace, with a hazy guitar production and a feeling close to Viking-era BATHORY. This feisty sumbitch ends with 'The Warrior Seers', another longer track that works as a logical bookend to the opening 'Aeonic Upheaval'.
There's no longer any doubt…VIMUR has risen to the upper echelons of American black metal.
Review By: Dr. Abner Mality
VIMUR
Transcendental Violence
Boris Records
4.5 / 6