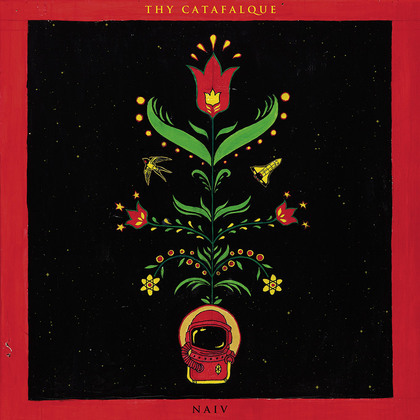 In almost every conceivable case, when I read a line in a band's PR sheet that says their current album is "their least metal ever", the hackles on my neck go up and I fear the worst. But not with THY CATAFALQUE, because I know Tamas Katai is in the driver's seat. He knows where he's going, he knows how to drive and his grip on the wheel is firm. With THY CATAFALQUE, Katai has consistently proven he's the rarest of birds in today's music scene…an honest to God composer.
There is something about the way this man writes music that just reaches me. His songs are so easy to listen to, and so fearless in the way they use various instruments and textures. Naiv is no different, except that this record perhaps uses the most varied palette ever to paint its picture. It is true, the metal component is less (but not absent by a long shot), but the songs just flow phenomenally well. "Progressive rock" is perhaps a more accurate tag and you can find traces of prog greats from YES to PINK FLOYD to PORCUPINE TREE here. But the flavor of Katai's native Hungary is always present…obviously it's in the lyrics and song titles, but it's also in the folky nature of the music itself, which sometimes uses authentic instruments like oud and quena flute.
Lots of territory to explore here. 'Tsitsushka' is the jazziest THY CATAFALQUE ever, with some awesome wailing saxophone and trombone weaving in and out of the quick proggy tempo. Female vocals show up now and then, and are as enchanting as always. But there's also some bestial growls and evil black metal screams. The songs can change on a dime, from heavy dramatic riffing to subdued and gentle prog.
Lots of band can do the "light and dark", "peaks and valleys" thing, but not as good as THY CATAFALQUE. No matter what mood each of the songs here is in, you roll with it. Some require a lot of intense listening, others just invite you to float along easily. This is the most diverse THY CATAFALQUE I've heard, and when Katai is driving, that's a good thing.
Review By: Dr. Abner Mality
THY CATAFALQUE
Naiv
Season Of Mist
5 / 6