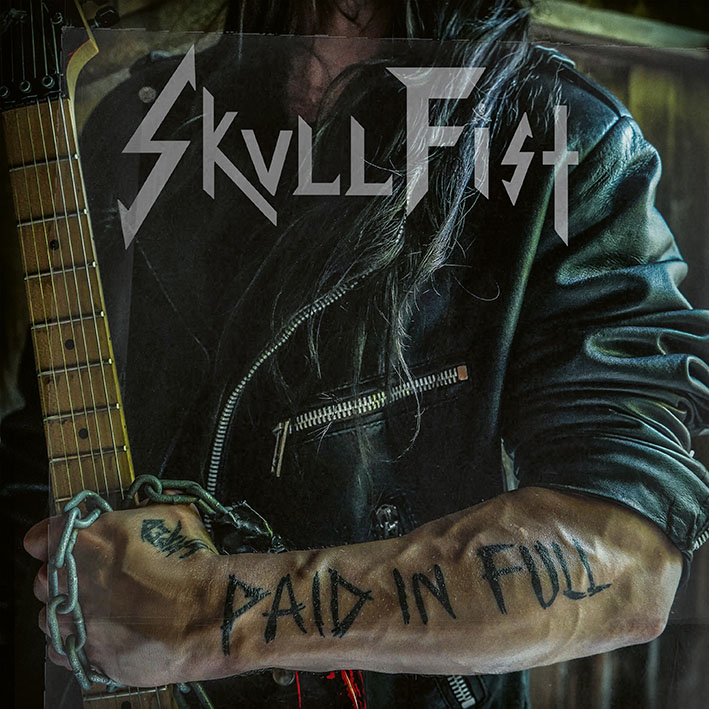 Now on its fourth LP, Toronto's SKULL FIST are true believers in the timelessness of heavy metal as it was in what so many of us geezers nostalgically refer to as "the glory days", "back when…" or "before all this…".
The title track kicks off with all the energy of MTV-era GREAT WHITE and half the power, straight from that time when major labels were throwing heaps of cash at anything with a cucumber in its pants and a can of hairspray in a holster. Now don't get me wrong, vocalist/guitarist Zach Slaughter has some pipes. It's just that he's phoning it in, and the call's collect to boot, never mind that the talent is obviously there to do make Paid In Full a lot more personal, a lot more "its own" than SKULL FIST is bothering to make it. Bands treading water, pay attention, because what follows is how a band creates a fan over the course of an album.
'Crush, Kill, Destroy' revives the spirits, the snappy rhythm section of Casey Guest [bass] and drummer JJ Tartaglia elevating the sound out of the morass, tasty lead breaks and Slaughter's crystal-clear high register causing me to fold down the corner on this page for a later visit. Injecting a bit of swagger ala STEELHEART / SCORPIONS, 'Madman' succeeds on all fronts, and I'm slowly coming 'round on this, the trio not near so kitschy as WIDOW can be, and clearly confident in both what it is and is not.
'Heavier Than Metal' is a love letter to the era that (albeit decades later) spawned SKULL FIST, comfortably beside countrymen EXCITER, ANVIL and the criminally underrated SWORD as marked by the blade of fist-pumping, headbanging Metal with a capital "M". While I like a good bit more heft and weight to my Heavy Metal, a more noticeable low end, yeah, I'll be back. After all, as when it comes to credibility this band is Paid In Full!
Review By: Lord Randall
SKULL FIST
Paid In Full
Atomic Fire Records
3 / 6