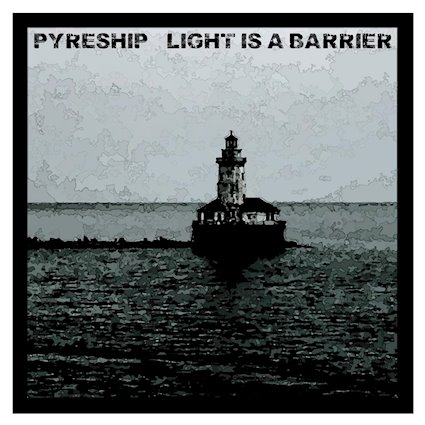 Finding a quality band that falls under the post-whatever (in this case -metal) tag is almost – if not more – rare than a current thrash band actually doing something interesting with the genre. Houston, Texas' awfully-named PYRESHIP has a full-length and split with Louisiana sludge/prog crew FORMING THE VOID under its belt from a few years back, and now returns with Light Is A Barrier.
An overlong spoken piece takes up the first minute of 'Broken Spire', but I guess the band figured they could spare it, what with 8+ minutes to fill on the opener. Once the vocals drift in, though, the triple threat of new vocalist Jenny Jordan and the guitarists harmonize well…until the chorus, leaving me already longing for the more lysergic, nodding tempo of the verses. Clearly grunge fans, which is normally a pro for me, the chorus just doesn't blend with the verses like my ears feel it should.
The languid sections of 'Anathema' are where PYRESHIP shines, ALICE IN CHAINS an obvious reference point, but less bitter, more cerebral at times. I'm not feeling the vocals in the more aggressive moments, though, as they feel forced more than anything, which stinks, as when Jordan's in her comfort zone there's something entrancing, leading me to believe she should be given a bigger role in the band. 'Half Light' fails to hold the attention, or even firmly grasp it in the first place, a poorly placed song where it is, in the middle of Light Is A Barrier, in the spot where you want to really pull the listener in (or back, in this case).
Mostly instrumental, 'Forest Of Spears' feels like it's supposed to take me somewhere, but a sea of overdriven guitars and random riffery, bored rhythms, and therefore boring don't even make me want to ready myself for the trip.
"Oh, yeah, what're we gonna do when we get there, PYRESHIP?"
"Umm…I guess…some stuff, y' know? Sound cool?".
"Nah, I'll pass. Bring me back a t-shirt, okay?"
Ender 'Highborn' has its moments seeming to come together at times and I could see this sophomore slump being a different album and definitely a better experience if you removed the "heavier" element, as the band itself feels uncomfortable or "lost" somehow when there. I don't think PYRESHIP knows what it is yet and, after six years' worth of recorded material, that's not a good place to be. I listened to Light Is A Barrier and all I got was this stupid t-shirt.
Review By: Lord Randall
PYRESHIP
Light Is A Barrier
Independent
1.5 / 6