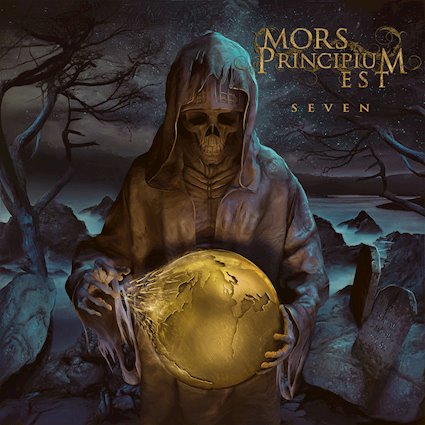 I've always had a soft spot for melodic death metal, especially that of the Scandinavian/Teutonic variety, so Finland's MORS PRINCIPIUM EST fit easily into my listening choices when NIGHT IN GALES took a hiatus for the '10s, when we didn't know if AT THE GATES was going to be a thing anymore, and when IN FLAMES disappeared up its own ass starting with 1999's Colony, incidentally the year of MPE's founding.
Now on its appropriately-titled 7th album, the duo has largely been reliable, not having released an outright clunker during its two decades. Certainly, there are some standouts as well ('12's …And Death Said Live, Embers Of A Dying World from 2017), but I'll take reliable over swinging wildly between great and shrug-inducing any day.
'A Day For Redemption' kicks off after a short fanfare, all tooth and nail, the ridiculously nimble fretwork and programming of Andy Gillion providing a solid underpinning for Ville Viljanen's raspy delivery. Next up, 'Lost In A Starless Aeon' is a riff-gasmic frenzy, memorable at first listen. While the thought of programmed rhythms may seem anathema to some, Gillion is tasteful in his work, rarely stepping on the toes of the rest of the tune, serving the song, yet keeping things interesting. I'd like to see a more variation in the tones employed during leads, which has been one of the things I feel has held MPE back, and it's especially frustrating, because it's not like the talent isn't there. Not my band, though, so I digress.
'March To War' is passionate and poignant, rendering the lyric "Never forget who we are, never forget what we have lost." more timely than ever. The instrumental 'Reverence' grants my previous wish, but I'd have truly enjoyed it to be even longer, a full song as opposed to the abbreviated interlude it is, while 'Master Of The Dead' shines blackly as Seven's finest showing. Finale 'My Home, My Grave' wisely takes the best of what's come before, putting the album to rest in fine fashion.
MORS PRINCIPIUM EST wins again, but I'll confess, I don't think sirs Vilianen and Gillion have given us the best of what's in them yet. And so, the journey continues…
Review By: Lord Randall
MORS PRINCIPIUM EST
Seven
AFM Records
4 / 6