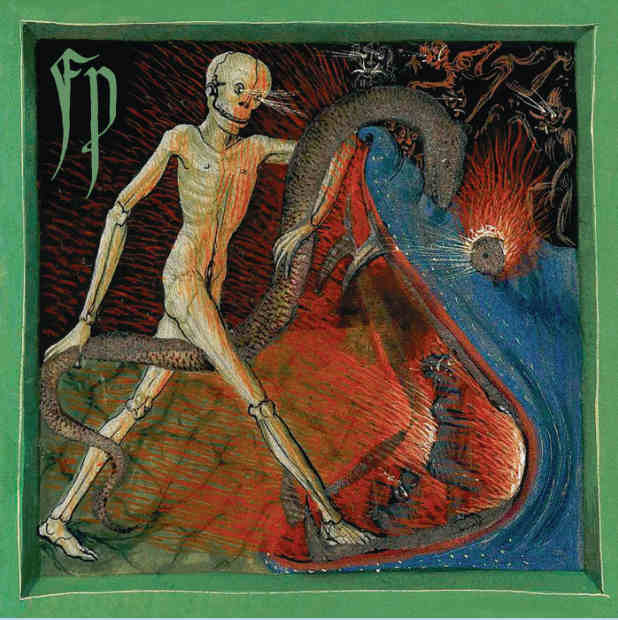 One man band FUNERAL PRESENCE has given us another reminder that it's the most off the wall and batshit crazy bands that are the most entertaining. The thing I will remember most about this oddball outsider unit is their use of bells…the clear glorious ringing of tubular bells and the earthy clank of the almighty cowbell. Over the course of these four epic and mind-dizzying tunes, you will hear both kind of bells used to brilliant effect.
The use of bells stands out, but really Funereal Presence deliver crazed extreme metal that is unlike anything else out there. Each of these four songs exceeds ten minutes in length and for the most part, they manage to keep your attention, which is a feat unto itself. A band I was often reminded of while listening to Achatius is ABSU…the breakneck speed, wild riffing and vaguely majestic feel are all similar, but FP take it to a level beyond. The power of the riff is preeminent but those riffs themselves really vary – some are right out of the traditional black metal playbook, but others sound like MAIDEN or early FATES WARNING on hyper-drive. Things occasionally slow to a grinding mid-paced, but not often. Stinging guitar solos come from every angle, and then there are those fantastic breaks where the tubular bells show up. Those bells are integrated perfectly into the heavy riffing and give a truly special aura to the album.
The guy behind this has the somewhat dodgy name of Bestial Devotion, but I have to give Mr. Devotion his due, in that Achatius sounds like a real band. The production is raw and earthy, with no digital trickery. Continuing the weirdness of the release, each of the four songs has a long winded medieval title such as 'Wherein Achatius Is Awakened and Called Upon' and 'Wherein Seven Celestial Beasts Are Revealed To Him'. It all seems to relate to the adventures of Achatius, who may be a demon from Hell. I'd love to check out the lyrics in more depth.
Once in a while, things get a little long winded but not too often. This is something truly different and not sounding like typical metal of any kind, yet drawing inspiration from classical sources. I hope we hear more from FUNEREAL PRESENCE and its bells in the years to come…

Reviewed By: Dr. Mality

FUNEREAL PRESENCE
Achatius
Ajna Offensive
5.5 / 6

R