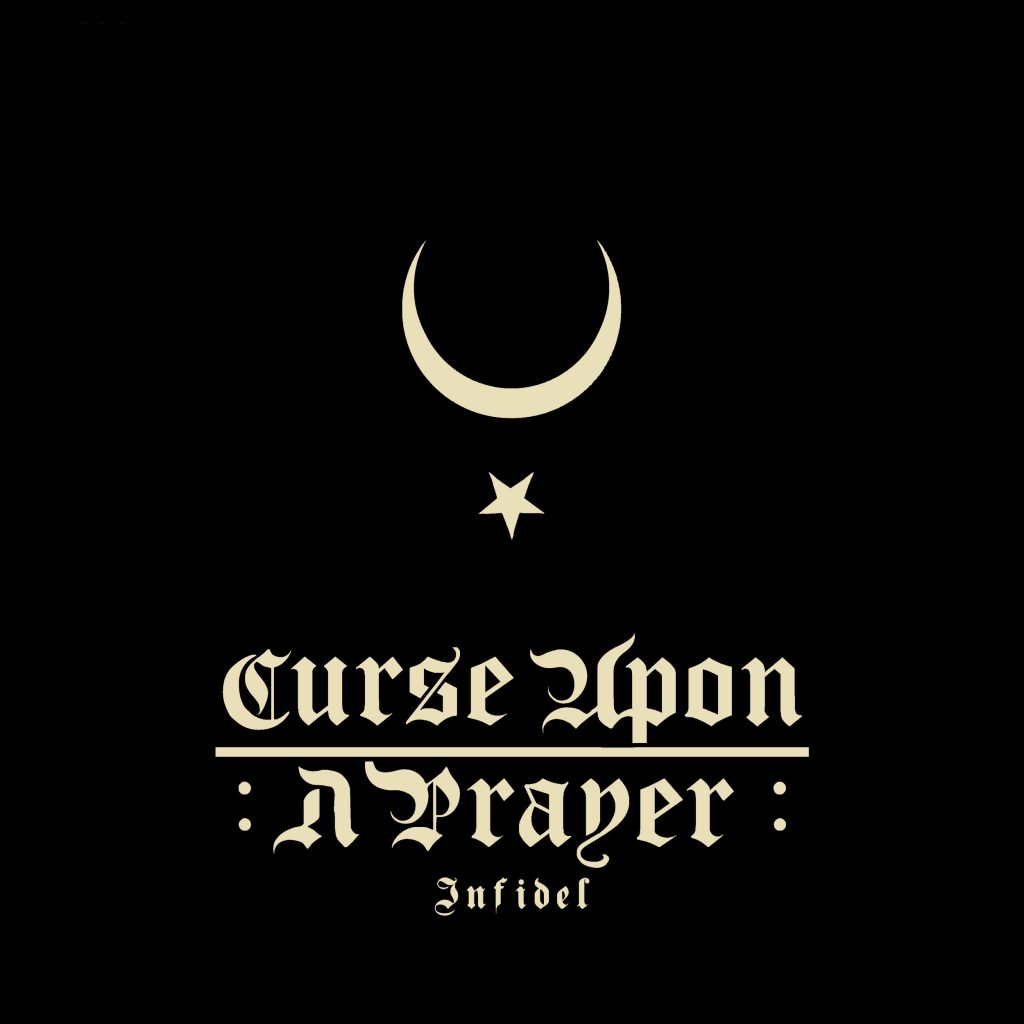 Much has been made of the fact that Finland's CURSE UPON A PRAYER have anti-Islamic lyrics, to the point that all other facets of the band are in danger of shuddering under the weight of this supposed gimmickry. Truth is, CUAP has crafted some fairly solid black metal in its short history, and isn't black metal supposed to be anti-…well, pretty much everything anyway? So let's get to it.
While I was a bit concerned that 'Call To Prayer' was going to be a full on intro of the Adhan, I needn't have been, the foursome unrolling a hazy rug upon which the most observant may kneel, and perish. The twist and turn of Sphynx-era MELECHESH give 'Infidel' fangs, mangled riff roiling beneath the spear-tipped focus of CURSE UPON A PRAYER's message. Melodic – and more so after repeated listens – 'Taste Ye The Penalty Of Burning' bleeds into 'Haram', the latter raging, frenetic until almost exactly the halfway point, when menacing whispers intone over hanging notes before erupting in an all-too-brief grand mal PORTAL convulsion.
The instrumental fulcrum of 'The Portrait Of Iblis' falls flat, neither as hypnotic nor as vital as each moment should be in an album just a horn's tip over 30 minutes, but 'Al-Masih ad Dajjal' brings the listener back into the fold almost instantly, Privilegivm-era SECRETS OF THE MOON conjured (think 'I Maldoror') in its grave-deep groove and passion. While I'd like to have seen the ambience of closer 'Jahannam' flipped with the scorn of 'Fitna', both are solid as anything the Finns have done thus far in their short yet storied career.
This isn't a perfect album by any stretch, but if you want perfection, this ain't the right world for you, kids. What Infidel does manage to be, however, is solid time spent with a band having far more to offer than image and token "anti-" sloganeering.
Review By: Lord Randall
CURSE UPON A PRAYER
Infidel
Saturnal Records
3.5 / 6